French prison guards in nationwide strike after attacks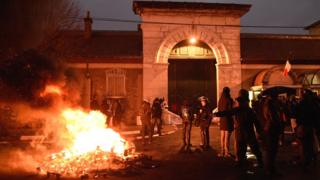 A series of attacks against prison guards by inmates at institutions across France has led to a nationwide strike in the country.
Unions have vowed a "total blockade" of prisons on Monday as their dispute with the government over safety improvements and wage rises enters its second week.
France's Justice Minister Nicole Belloubet said she would meet union leaders to try to end the crisis.
Last week, unions rejected government proposals to end the strikes.
Guards at prisons across the country, including the high-security institutions Fleury-Mérogis and Fresnes prison outside Paris, are on Monday taking part in protests supported by France's CGT union, the Force Ouvrière (FO) union and the Ufap-Unsa Justice union.
France's justice ministry has urged union representatives to "resume dialogue immediately", adding that it was the responsibility of all sides to ensure that prisons were functioning.
The strike comes after a number of guards were injured in scuffles at several prisons.
Last week, three officers were assaulted in an attack at Fresnes prison, which is situated south of Paris.
On Sunday, two prison guards required hospital treatment after they were attacked at a detention centre at Longuenesse prison, near Calais, according to prison officials.
"This is once again an attack on the staff, we cannot stand it anymore," spokesman for the Ufap-Unsa union, Yannick Lefebvre, said, adding: "It's a daily thing."
The unions are taking further action after rejecting a draft agreement proposing the creation of 1,100 guard jobs over four years.
Currently, the prison service employs 28,000 guards in 188 establishments holding about 78,000 prisoners, according to AFP news agency.