435 million-year-old starfish discovered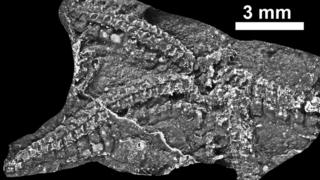 A 435-million-year-old starfish discovered fossilised in Connemara has been named after an Irish geologist more than 30 years after he found it.
Crepidosoma Doyleii was discovered by geologist Dr Eamon Doyle in the late 1980s.
The specimen is a species of an ophiuroid starfish that still exists and is more commonly known as a brittle star.
It will go on display in Dublin's Museum of Natural History.
Dr Doyle said it was not uncommon for fossils to be collected but not looked at or fully understood for a number of years.
He said it was an honour to have a new species named after him.
"It is absolutely fantastic and great to bring an awareness of geology to the public," he said.
"It is equivalent to a Golden Globe or Oscar for people in the movie business."
'great story of survival'
He said the discovery came when he was clambering up "a rather steep hill, looking for new fossil locations".
"I was doing my PhD out in north Galway and south Mayo studying fossils and I found this thin narrow band , only about 10 cms thick - I just broke it open.
"I knew it was new and interesting, but at that time we didn't have the expertise among us," he added.
He said Crepidosoma Doyleii - which are smaller than a human thumbnail - lived some 435 million years ago in an ocean that covered most of Ireland but that no longer exists due to the movement of the planet's tectonic plates.
"But these starfish have grown and evolved," he explained.
"Dinosaurs have come and gone in that time but the brittle stars have remained. It is a great story of survival."
The discovery of Crepidosoma Doyleii is detailed in the latest issue of the Irish Journal of Earth Sciences.