EU creditors to start Greece debt-relief talks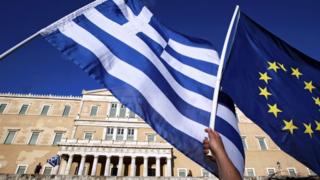 EU creditors have agreed to start talks on possible debt relief for Greece as the country prepares to leave an eight-year bailout programme.
Greece's public debt totals 180% of its economy and the talks will focus on how to link any relief to economic results.
The International Monetary Fund (IMF) has long been in favour of substantial debt relief but has faced opposition from countries like Germany.
The eurozone has also agreed in principle to pay out new loans.
Why give Greece debt relief?
The IMF says Greece's debt is "unsustainable" and has insisted on substantial relief from European creditors as a condition to join the current and third bailout, which ends in August.
Eurozone countries have provided some debt relief already, in the form of lower interest rates and extended repayment periods, but some have been reluctant to go any further.
Several face domestic political pressure over providing debt relief - it does not go down well to be seen rescuing foreign governments from what are seen as the consequences of their own irresponsibility.
But meeting in Brussels, the Eurogroup of eurozone finance ministers agreed to start "technical work" on a "growth-adjustment mechanism, as part of the medium-term debt relief measures to be implemented, if needed".
Such an idea was first proposed by France and would see more relief should Greece's economic growth disappoint in the future, Euclid Tsakalotos, Greece's Finance Minister, was quoted by the Financial Times newspaper as saying.
What about the current bailout?
The Eurogroup praised Greece for its recent progress in delivering reforms but said new loans of €6.7bn (£5.9bn; $8.2bn) would only be released once all agreed actions were complete.
The lenders had asked the country to implement about 100 measures but, so far, only 92 of the steps had been seen through, experts told Reuters news agency.
The loans would be paid out in two tranches - the first, worth €5.7bn, in February, and the second, the remaining €1bn, in April.
Eurogroup head Mario Centeno said the cash injection was "critical to ensure Greece's full market access".
Mr Tsakalotos welcomed the outcome of the meeting and the start of talks on possible debt-relief measures.
"People are now convinced that things have turned around, and people are beginning to talk about the future and Greece's exit from the programme," he said.