Italian mafia: How crime families went global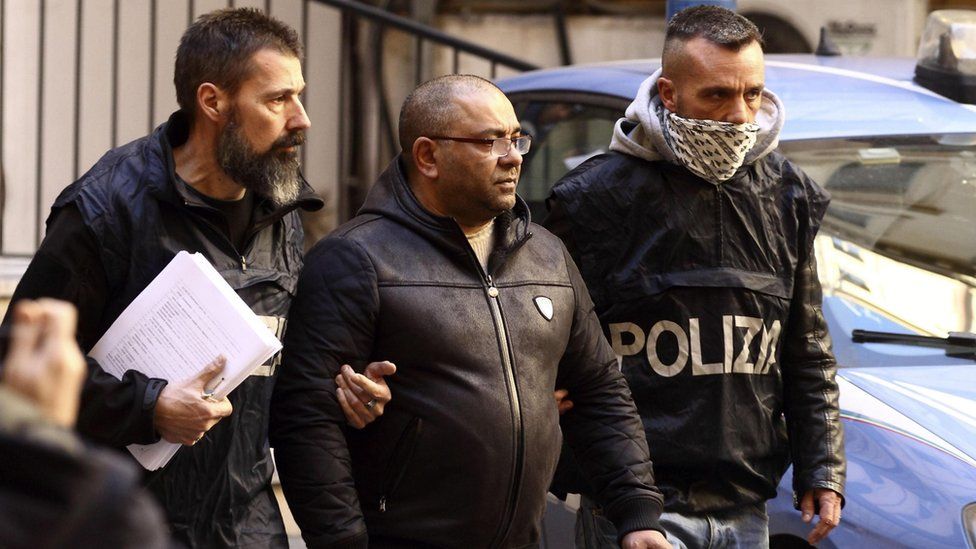 Italian police have carried out a spate of anti-mafia raids, arresting dozens of suspects near Naples, Rome and Agrigento in Sicily.
Illegal drugs, arms trafficking, extortion, contract killings, political bribery, prostitution, art thefts... the list of crimes is long.
So who are the Italian mafia?
Sicilian Mafia - Cosa Nostra
The Sicilian gangs established the model for other mafias. They meted out local justice in the 1800s, then grew in power and sophistication.
Cosa Nostra means "our thing" - it is the original Mafia, with a capital M, based on family clans.
It is famous for the "omertà" - a code of silence demanding extreme loyalty. Turncoats risk torture and death, or punishment of their relatives.
Even today they settle some business disputes and retrieve stolen goods in Sicily, undermining the slow-moving Italian courts. But many despise them for the "pizzo" - protection money - that they extort from businesses.
Cosa Nostra earned notoriety in the US, where it became the Italian "Mob", feuding and racketeering in Chicago, New York and some other cities. It accumulated power by controlling illicit alcohol in the 1920s Prohibition era.
America's FBI says the US crime syndicate is largely separate from the clans in Italy. Heroin trafficking remains a core business for Cosa Nostra.
Say "mafia" now and many people will think of Marlon Brando in The Godfather. The Sicilian word actually implies "manly", and the label is often applied loosely - and inaccurately - to organised crime gangs.
Some Italian mafia clans operate globally, competing with similarly ruthless "mafia" gangs from Russia, China, Albania and several other countries. Sometimes gangs co-ordinate their crimes and share out the loot.
Cosa Nostra infiltrated local and national politics not only in Italy but also in the US.
Today Cosa Nostra and the three other main Italian mafia groups - the Camorra, 'Ndrangheta and Sacra Corona Unita - have an estimated 25,000 members in total, with 250,000 affiliates worldwide, the FBI says.
Cosa Nostra was essentially at war with the Italian state during the reign of "godfather" Salvatore "Toto" Riina.
In May 1992, Riina's men detonated a bomb that killed prosecutor Giovanni Falcone, his wife and three bodyguards just outside Palermo.
Two months later they killed his replacement Paolo Borsellino and five bodyguards in Palermo, with a car bomb.
Prof Federico Varese, an Oxford University expert on the Mafia, says Cosa Nostra is now extorting "pizzo" from some state-funded migrant shelters in Sicily.
But some migrant gangs are competing with the Mafia, in local prostitution for example, he told the BBC.
Italian police have also put the Mafia under "huge pressure" in Sicily, Prof Varese said.
An estimated 4,500 people are in the Camorra clans in Naples and Caserta, just north of the port city.
Their main business is drugs - they are often extremely brutal. They also extort money from construction firms, toxic waste disposal and garment businesses. Their targets include Chinese-run sweatshops making copies of Italian fashions.
Vicious Camorra feuding was documented by Italian undercover reporter Roberto Saviano, whose 2006 book Gomorrah became a bestseller.
Saviano has police bodyguards and lives a life of secrecy after receiving Camorra death threats.
Camorra drugs crime has spread to Spain, but the syndicate remains rooted in poor suburbs of Naples, such as Scampia and Secondigliano.
Calabrian mafia - 'Ndrangheta
Calabria, the "toe" of the Italian boot, lies near Sicily and the 'Ndrangheta was originally an offshoot of Cosa Nostra.
The name comes from the Greek "andragathia", meaning courage or loyalty.
The FBI estimates 'Ndrangheta membership at about 6,000. They are based in one of Italy's poorest regions.
The group specialises in cocaine trafficking, and Prof Varese says it has direct links to crime gangs in Mexico and Colombia. It is reckoned to control as much as 80% of Europe's cocaine trade.
It is also entrenched in the crime scene in and around Turin in northern Italy.
Puglia mafia - Sacra Corona Unita
The smallest of Italy's main mafia syndicates, Sacra Corona Unita ("United Sacred Crown") is based in Puglia, in the far south-east.
The FBI says it has about 2,000 members and specialises in smuggling cigarettes, arms, drugs and people.
Puglia is a natural gateway for smuggling from the Balkans. Puglia clans are believed to have strong links to Eastern European crime gangs.