Paris attacks: 'IS landlord' in first trial over 2015 killings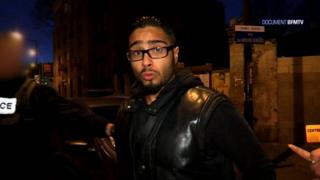 A man who lent his flat to two jihadists responsible for the Paris attacks has appeared in the first trial relating to the November 2015 assaults.
Jawad Bendaoud, 31, is charged with harbouring Abdelhamid Abaaoud and Chakib Akrouh following the killings.
He is famous in France for pleading his innocence on live television, saying he "didn't know they were terrorists".
The co-ordinated suicide bombing and mass shootings around Paris killed 130 people and wounded hundreds.
The Islamic State group said it was behind the attacks on the national stadium, bars and restaurants in the city, as well as the Bataclan concert venue.
Some of those injured were in the Palais de Justice courthouse for the start of the first trial on Wednesday.
Prison wardens had earlier threatened to disrupt the transfer of Mr Bendaoud to court as part of strike action across France over pay and inmate violence.
Riot police broke up a picket outside the Fresnes prison near Paris where he was being held, as some staff threatened to refuse to let him out.
'Laughed about'
The court in Paris will decide whether Mr Bendaoud actively conspired to help the two attackers hide in his apartment in Saint-Denis, or whether he became involved unknowingly.
He faces up to six years in prison if convicted of harbouring the ringleader of the Paris attacks, Abaaoud - a Belgian national later killed in a police raid on the flat - and his accomplice Akrouh, who blew himself up.
Mr Bendaoud, who has been jailed previously for killing a man, has been dubbed the "landlord of Daesh" in French media, referring to another name for IS.
But he has insisted that he did not know the pair at his flat were wanted by police.
He has also been mocked for his response in a television interview that went viral.
"Someone asked me for a favour, I helped them out," he said as he was arrested live on air.
His own lawyer, Xavier Nogueras, has described him as "the one we laughed about, having cried so much", according to AFP news agency.
Two other men are also on trial - Mr Bendaoud's friend Mohamed Soumah, who is accused of acting as an intermediary, and Youssef Aitboulahcen, the brother of a woman killed in the police raid on the flat.
The only surviving alleged perpetrator, Salah Abdeslam, goes on trial in Belgium in February on charges relating to his arrest there in 2016. He is not expected to go on trial in France until 2020 at the earliest.