Austria far right: Thousands rally against Vienna ball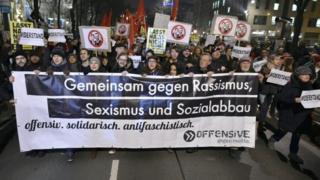 At least 8,000 people have protested in Austria's capital Vienna against a ball held by the far-right Freedom Party, police say.
The so-called Academics Ball at the Hofburg Palace is being attended by the head of the party, Vice-Chancellor Heinz-Christian Strache.
The Freedom Party has secured the key posts in Austria's coalition government after last year's elections.
It is the only Western European nation to have a far-right party in power.
The Freedom Party's senior coalition partner is the conservative People's Party led by Sebastian Kurz - the world's youngest head of government.