Ingvar Kamprad: World reacts to Ikea founder's death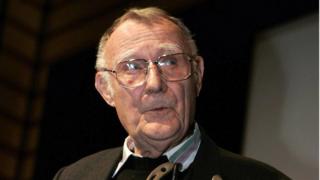 The death of Ingvar Kamprad at 91 has prompted both tributes and debate online.
The Swedish entrepreneur's death was confirmed by was confirmed by Ikea, the furniture company he helped build into a multinational giant.
Mr Kamprad's name has been used more than 32,000 times on Twitter since news of his death emerged.
Many paid tribute to his business sense, while others highlighted more controversial elements of his life.
Prominent Swedish politicians were among those leading the tributes online.
Sweden's Foreign Minister, Margot Wallström, paid her respects on Twitter.
"Ingvar Kamprad has passed away," she wrote.
"He put Sweden to the highest level on the world map. A great entrepreneur who helped bring Sweden into the world. My thoughts are with his family."
Mr Kamprad's role in raising the profile of his home country was noted by others, too. Annie Loof, the leader of Sweden's Centre Party, said he was "a pioneer, who changed people's lives".
"No Swede is so associated with Sweden as Ingvar Kamprad," she posted on Instagram.
Another social media user said that he "had single-handedly put Sweden on the world map".
Mr Kamprad's business acumen and role in pioneering flat-pack furniture was mentioned by many. ITV News correspondent Angus Walker noted that even the name of his famous company involved an element of self assembly.
Among the tributes, however, some highlighted questions over controversial links to the Nazis. Others focused on Ikea's complex business structure and tax arrangements.
By UGC and Social News team