Borussia Dortmund bus attack: Footballer Bartra 'feared for his life'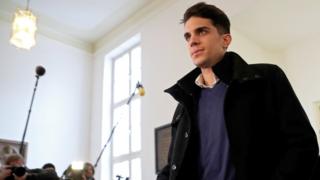 A footballer has told how he feared for his life when his German team's bus was bombed last April in Dortmund.
Spanish defender Marc Bartra spoke at the trial of German-Russian man Sergei Wenergold, who admits setting off three explosives in a complicated plot to make money on the stock market.
Mr Bartra, 27, who suffered a fractured wrist and was in hospital for five "terrible" days, read from a statement.
"I was afraid I would never see my family again," he said.
He told the hearing in Dortmund of his nightmares, adding: "I still haven't fully got over the attack and continue to suffer."
Shattered glass
The Borussia Dortmund football team had been leaving a hotel in Dortmund on 11 April for a Champions League match when three remotely activated explosive devices, hidden in a hedge, exploded.
Mr Bartra said that straight after the blasts, he heard a ringing in his ears while other passengers on the bus screamed.
"I feared there would be more attacks," the Bundesliga player said. "My arm was bleeding, I was dizzy."
The triple blast shattered the bus's windows, with a police officer also suffering inner ear damage.
Police initially suspected the bombing was a jihadist attack but arrested Mr Wenergold 10 days later.
Prosecutors say the three bombs contained up to 1kg (2.2lb) of an explosive mixture and around 65 metal bolts, one of which flew into Mr Bartra's headrest.
They believe the 28-year-old electrical technician intended to profit from an anticipated plunge in the football club's stock market value.
Mr Wenergold was staying in the same hotel as the players, had a view of where the bombs went off and had bought the so-called options - basically bets on a falling share price - on the day of the attack, prosecutors said.
Missing testimony
Mr Bartra was not the only Borussia Dortmund footballer expected to testify in court on Monday.
Pierre-Emerick Aubameyang - who is on the cusp of joining Premier League side Arsenal in a £60m ($84.5m) transfer - failed to appear.
His lawyer was quoted in the German newspaper Frankfurter Allgemeine as saying the Gabonese player would not testify "because he is ill".
The judge pointed out that Mr Aubameyang had taken part in Borussia Dortmund's game against Freiburg on Saturday.
More players may be called on to testify but it is not clear if the court will allow Mr Aubameyang to give evidence on another day or simply fine him for not showing up.
Consequences in court
Mr Wenergold is charged with 28 counts of attempted murder, as well as setting off explosions and causing serious bodily harm. He has said that he did not intend to kill or hurt anyone with his explosives.
If found guilty he faces life in prison. However, parole is usually granted after 15 years in Germany.
On Monday, Mr Wenergold tried to address Mr Bartra in court, saying: "I want to apologise to you for what I did to you, I'm sorry."
The Spanish footballer however refused to look at him, according to Sudeutsche Zeitung, putting his hands over his eyes.
With the help of an interpreter Mr Bartra had spoken in the hearing of the sense of "panic" at having to face the attacker in court.
"The attack changed my life," he said. "I'm happy to be alive."