Monkeys? Humans? The ethics of testing diesel fumes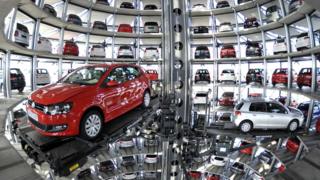 German car manufacturer Volkswagen is under fire following revelations that it part-funded tests in which humans and monkeys inhaled diesel fumes for hours.
"These tests on monkeys or even humans cannot be justified ethically in any way," said Steffen Seibert, a spokesman for German Chancellor Angela Merkel.
Environment Minister Barbara Hendricks called the experiments "abominable", opposition politician Stephan Weil said they were "absurd and abhorrent".
But in a world where animal testing and paid medical testing on humans is commonplace, why have these particular tests provoked such outrage?
The exact nature of the VW tests is not known, as their methodology and findings have not been made public, but two independent scientists who have conducted air pollution tests on human volunteers told the BBC that similar tests on humans are commonplace.
"There have been hundreds of such studies, in most countries in the world, over the last 30 years," said Frank Kelly, professor of environmental health at King's College London. "They are funded by national governments, following strict ethical review, to understand the impact of emissions on human health."
The controversial, and possibly unethical, aspect of the VW testing was that it had been funded by a lobby group rather than an independent, government-funded body, he said.
"The issue here is that in this case the studies were funded by the motor industry, which would have had presumably quite a lot of control over the nature of the studies and how the results were presented."
In typical emissions tests, participants spend up to two hours in a sealed environment chamber breathing diluted diesel fumes equivalent to the levels of air pollution in Beijing or Delhi.
They will usually spend about 90 minutes of that seated, and 30 minutes gently exercising on a stationary bike to keep up blood flow.
The same participants then return another day to complete the same process in clean air, for a control comparison. After both sessions, blood tests and other physical tests are carried out.
Participants are vetted and informed they will be inhaling pollution at that level, and sign consent forms to that effect. They are paid about $14 (£10) an hour. The tests require a raft of approvals from public health bodies.
Such studies are "essential to back up policies that protect all of us", said Dr Christopher Carlsten, a professor at the University of British Columbia who has conducted emissions testing on humans.
"There do seem to be individuals who are frustrated that this work is done at all. I would ask them to look at the evidence that these studies, when appropriately done, contribute significantly to the evidence that leads to regulations that protect the public from adverse air quality," he said.
One unusual aspect of the VW testing, according to both Dr Kelly and Dr Carlsten, was the use of monkeys. According to the New York Times, 10 cynomolgus macaque monkeys, a breed used extensively in medical experiments, were put in chambers and played cartoons to distract them while diesel fumes were pumped in.
"It's uncommon to study non-human primates, I never conducted animal research" said Dr Carlsten. "I would speculate that human testing is more common simply because we learn more from the full human organism. That is what we are trying to protect."
But it was the funding and commissioning of tests by the motor industry itself that was the significant controversy, both professors said. The work was commissioned by the European Research Group on Environment and Health in the Transport Sector, a car lobby group funded by the VW, BMW and Daimler car manufacturers.
The kinds of studies undertaken by Dr Kelly and Dr Carlsten are independently funded, peer-reviewed and published.
"In this case we don't know the details of what they did, the actual levels they used, how they controlled the tests," said Dr Carlsten. "These studies have not to my knowledge been published, so it really raises questions about the rigour or their methods."
A good analogy would be allowing tobacco companies to sponsor research on the effects of smoking, keep the results secret, and simply publishing a press release that suited them, said Dr Kelly.
"That would not be satisfactory, it would not be independent and, if it involved humans, it would not be ethical," he said.