Turkey court orders release of Amnesty head Taner Kilic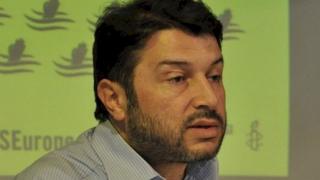 A court in Istanbul has ordered the release of the head of human rights group Amnesty International in Turkey, who was detained last June.
Taner Kilic had been charged with membership of a terrorist organisation, an accusation the London-based group had described as "baseless".
The court ordered his release on bail. Ten other activists are also on trial.
The cases were part of a crackdown following the failed coup attempt of July 2016.
The decision was met with applause and shouts of joy in the courtroom, while Mr Kilic's friends wept and hugged one another.
Mr Kilic was accused of using an encrypted messaging application called Bylock that the Turkish government said was used by followers of the US-based Islamic preacher Fethullah Gulen.
Taner Kilic, who was held in the western province of Izmir and appeared in court via video link, denied having the app and said he had proved his innocence through documents presented to the court, AFP news agency reports.
Amnesty said two independent forensic analyses of his phone found that there was no trace of the application ever having been on his device.
The group welcomed Mr Kilic's release, but said it would continue to press for the charges against the 11 activists to be dropped.
They include the director of Amnesty's Turkey office, Idil Eser, a German and a Swede, who were released last year.
Gauri van Gulik, Amnesty's Europe director, said: "These unfounded prosecutions are an attempt to silence critical voices within Turkey but have only served to highlight the importance of human rights and those who dedicate their lives to defending them."
President Recep Tayyip Erdogan accuses Mr Gulen of being behind the coup attempt - a charge the cleric denies.
More than 40,000 people were arrested and 120,000 sacked or suspended from their jobs in the aftermath of the failed coup. They include police, military personnel, teachers and public servants.
Amnesty has been a vocal critic of the crackdown on suspected coup plotters. It said in 2016 it had "credible reports" of detainees being subjected to "beatings and torture, including rape".