Tariq Ramadan charged in France over rape allegations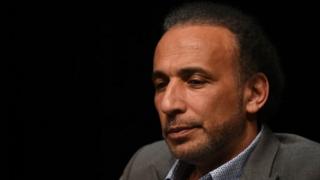 A French judge has placed prominent Islamic studies scholar Tariq Ramadan under criminal investigation on two charges of rape.
The 55-year-old was questioned by police in Paris earlier this week and has now been remanded into custody.
He denies wrongdoing and is suing one of his accusers, a former radical Islamist, for slander.
Mr Ramadan teaches at Oxford University, but took leave of absence after the claims surfaced in October.
An examining magistrate will now compile a case, and determine whether Mr Ramadan will stand trial for rape and assault.
How did the allegations emerge?
His first accuser is Henda Ayari, a former Muslim radical who now heads a secular feminist group.
In a book published in 2016, she wrote about being raped in a Paris hotel four years earlier, but the book did not name the attacker.
But in October 2017, she said the sexual assault scandal surrounding Hollywood mogul Harvey Weinstein had emboldened her to accuse Mr Ramadan explicitly.
A few days later another woman, a convert to Islam who has remained anonymous, accused him of raping her in 2009.
Four Swiss women have also accused the scholar of making sexual advances while they were students in Geneva. He says all the allegations are part of a campaign by his enemies.
Who is Tariq Ramadan?
A controversial and influential figure among Muslim scholars, he is the grandson of Hassan al-Banna, the Egyptian imam who founded the Muslim Brotherhood in the 1920s.
Tariq Ramadan challenges Muslim fundamentalists and encourages dialogue between religions, but some critics say he is promoting a version of Islam that is inconsistent with French secular values.
He has made regular media appearances in France and Britain, and is a popular figure among young Muslims in Europe.
Mr Ramadan is a Swiss national and since 2009 has been professor of contemporary Islamic studies at St Antony's College, Oxford.
He has also sat on a UK Foreign Office advisory group on freedom of religion.