Poland Holocaust law: France criticises 'ill advised' text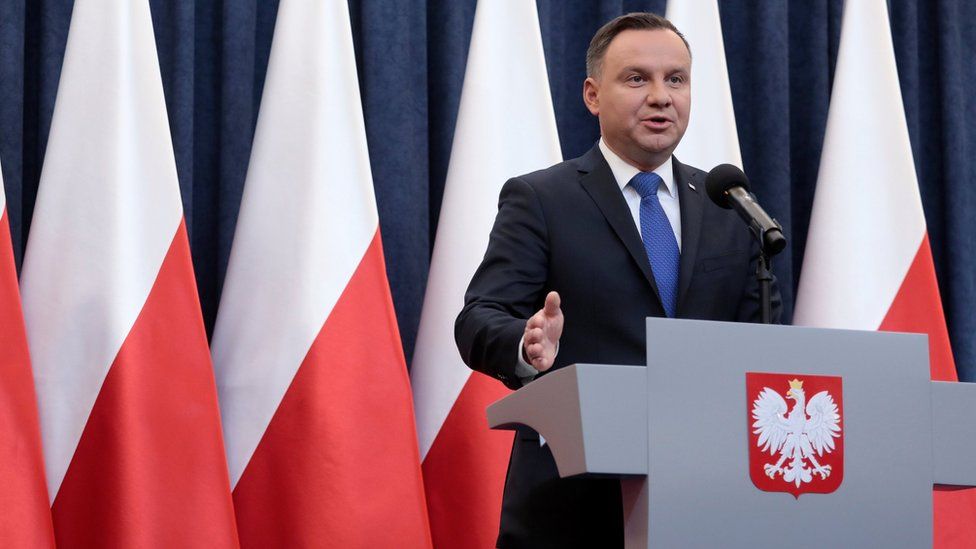 France has joined the US and Israel in criticising Poland's new Holocaust law, describing the text as "ill advised".
"You should not rewrite history, it's never a very good idea," Foreign Minister Jean-Yves Le Drian said.
Polish president Andrzej Duda signed the law on Tuesday. It outlaws accusing Poland of complicity in Nazi crimes committed under occupation.
The US has expressed "disappointment". Israel is worried the law could stifle the truth about the role of some Poles.
There are also fears Holocaust survivors could face criminal charges for giving testimony that incriminates Poles.
In a televised address, Mr Duda said the aim of the law was to safeguard Poland's image abroad.
"[The bill]... protects Polish interests... our dignity, the historical truth... so that we are not slandered as a state and as a nation."
Mr Duda said he would send the text to the Constitutional Tribunal to check whether its regulations comply with the Polish constitution. This is expected to happen within a week.
It says that "whoever accuses, publicly and against the facts, the Polish nation, or the Polish state, of being responsible or complicit in the Nazi crimes committed by the Third German Reich… shall be subject to a fine or a penalty of imprisonment of up to three years".
But it adds the caveat that a person "is not committing a crime if he or she commits such an act as part of artistic or scientific activities".
The country has long objected to the use of phrases like "Polish death camps", which suggest the Polish state in some way shared responsibility for camps such as Auschwitz.
The camps were built and operated by Nazi Germany after it invaded Poland in 1939.
What has the reaction been?
What is being said in Poland?
Prime Minister Mateusz Morawiecki said the tensions were a "temporary weakening of relations with Israel and the USA" but that he hoped they would improve after the country explained its position.
He said Poland was committed to combating lies about the Holocaust while Deputy Justice Minister Marcin Warchol said it was wrong to suggest the legislation would stop people researching Polish history.
Poland is governed by a nationalist party, Law and Justice (PiS), which is keen to show the world how Poland was victimised by its German and Soviet neighbours in the war.
In a separate development on Wednesday, one of the 14 vice presidents of the European Parliament was removed from his post after he referred to a fellow Polish MEP as a Nazi collaborator.
Ryzsard Czarnecki will remain as an MEP and his parliamentary group will be entitled to put forward a replacement. A two-thirds majority was required to remove him, under a procedure that had never been used.
What happened in Poland in WW2?
Poland was attacked and occupied by Nazi Germany. Millions of its citizens were killed, including three million Polish Jews in the Holocaust.
Six million Jews were killed in the Holocaust overall.
More Poles have been honoured by Israel for saving the lives of Jews during the war than any other nation.
However, historians say others were complicit.
Some informed on Jews in hiding for rewards; others participated in Nazi-instigated massacres including in Jedwabne where hundreds of Jews were murdered by their neighbours.