Colleagues work 3,300 extra hours for dad with sick son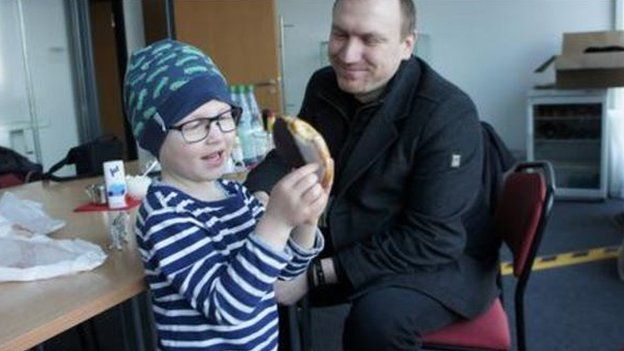 Employees of a German company donated almost 3,300 hours in overtime so a colleague could look after his son with leukaemia, local media report.
Single dad Andreas Graff has taken almost a year off being an assembly worker at a design company in Hesse.
After four-year-old son Julius's cancer diagnosis, more than 700 colleagues responded to a manager's appeal.
"Without this great support, I would be unemployed," Mr Graff told local paper, Oberhessische Presse.
When Mr Graff learned in January 2017 that Julius had leukaemia, a cancer of the blood cells, he immediately took all his holiday leave.
Mr Graff did not know how to prepare for a future of long hours in hospital. The first nine weeks of Julius' treatment required the then three-year-old to be confined to a bed.
Mr Graff, 36, feared losing his job once he had exhausted his unpaid leave.
But an HR manager stepped in.
With the support of senior management and the workers union, Pia Meier called on employees of Seidel and its subsidiary Carus in Fronhausen in central Germany to contribute to an overtime fundraiser.
"The reaction of our employees was incredible," she told Oberhessische Presse.
Within two weeks of posting sign-up sheets, a total of 3,264.5 hours were collected.
"There is no-one who has not donated," Ms Meier added.
Overwhelmed by the generosity of his colleagues, including trainees who had never met him, Mr Graff cried with joy at the thought he could take more than a year off work to care for Julius.
But after nine months by his son's side in hospital, Mr Graff was about to bring Julius home when the family suffered another blow - the death of Mr Graff's wife and Julius's mother from heart disease.
Julius, who turns five at the end of February, is continuing his treatment at home.
His father says he is energetic and hopes to join a local kindergarten. Mr Graff plans a gradual return to work.