EU migration chief hits out at 'sick minds' over Greece bribery probe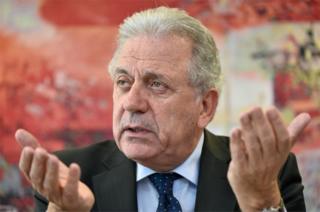 The EU's migration chief has denounced a major corruption investigation in Greece as an "unprecedented plot".
Dimitris Avramopoulos is among 10 Greek politicians named by prosecutors in a probe involving the Swiss pharmaceutical company Novartis.
Novartis is accused of paying top politicians bribes in exchange for price-fixing their medicines.
Prosecutors believe this could have cost the state billions during a painful financial crisis.
The allegations relate to a period between 2006 and 2015 - including when Mr Avramopoulos was Greece's health minister. He is now the EU's commissioner for migration.
In a statement on Wednesday, he condemned what he called an "unsubstantiated and flawed case file".
"It is now clear that it is an unprecedented plot which cannot stand in any member state of the European Union. Only sick minds could have invented and attempted it."
Mr Avramopoulos, who belongs to Greece's conservative New Democracy party, said the investigation was a bid to "exterminate political opponents".
AMNA news agency reported that about €50m (£43m) was allegedly paid to politicians.
Among others named in the investigation are former Prime Minister Antonis Samaras (2012-2015) and caretaker Prime Minister Panagiotos Pikramenos (May-June 2012).
All have denied knowledge of, or involvement in, the scheme. Novartis says it is cooperating with the investigation.
Mr Samaras told the Associated Press the allegations were "slander" and said he would file a lawsuit against sitting Prime Minister Alexis Tsipras in response.
The Greek parliament has now been given a case file containing details of the investigation to decide if the former ministers should be prosecuted.