PRONI helps in reconstruction of Ireland's lost archive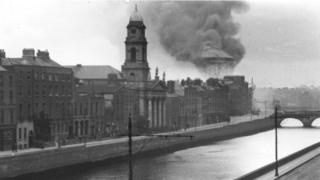 Archivists are attempting to recover centuries of lost history by digitally recreating the Public Records Office of Ireland which was burnt down in 1922.
The office, which was based in the Four Courts in central Dublin, was destroyed by fire in the Irish Civil War, along with countless precious records.
Among the lost documents were several sets of famine-era census papers.
The joint project involves Trinity College Dublin and the Public Records Office of Northern Ireland (PRONI).
Their staff will work with several other archival partners in a bid to bring back lost records which "touched almost every aspect of life in Ireland".
'Catastrophic loss'
The former Public Records Office of Ireland was a six-storey Victorian building which stored important state and church papers, some dating back as far as the 13th Century.
During the Civil War, it was used to store mines and ammunition and on the 30 June, 1922, mines exploded in the basement and the building was destroyed by fire.
More than 100,000 sq feet of shelving, housing records dating back 700 years, went up in flames in the blaze - all of which were considered to be lost forever.
However, Trinity and PRONI are now working together on the 'Beyond 2022: Ireland's Virtual Record Treasury project.
Its aim is to make a 3D digital reconstruction of the original building and digitally refill its shelves in time to mark the 100th anniversary of the blaze.
While a variety of archival bodies are collaborating in the project, PRONI has a unique connection to the former archive.
Established in 1923, PRONI was originally headed by Dr David A Chart.
Dr Chart had previously worked in the Dublin Records Office and was aware of the damage that had been done, and volume of records that had been lost in 1922.
In his new role, he set about actively compiling substitutions for some of the destroyed manuscripts by approaching solicitors, business people, politicians, churches and landed aristocracy.
His successors continued his tradition, and the current PRONI director, Dr Michael Willis, says the office is now delighted to be collaborating in the new digital scheme.
"The destruction of the Public Record Office of Ireland led to a catastrophic loss of records," said Dr Willis.
"However, we have been fortunate that previous directors of PRONI were successful in identifying and collecting surrogate records.
"The Beyond 2022 resource highlights many of these surrogates and is a testimony to what has survived."
'Engage in deep history'
The National Archives of Ireland, The National Archives (UK), and The Irish Manuscripts Commission are also taking part in the project which is being led by the School of Histories and Humanities, and the School of Computer Science and Statistics at Trinity College, Dublin.
Once complete, users will be able to access all "surviving or substitute materials" relating to births, marriages, deaths and crimes from the 13th century onwards.
Dr Peter Crooks is the principal investigator of the project.
"Because the archival collections date from such an early period of history, the reconstruction effort will allow anyone with an interest in researching their families or localities to engage in deep history," he said.
He added that people would be able to reach back "almost half a millennium earlier than most readily available genealogical resources".
Dr Seamus Lawless, from the School of Computer Science, said the project was exciting in terms of science and technology.
"The development of a fully immersive recreation of the archive allows us to blend the physical with the digital, and study how people search for information when using the archive," he said.
"Beyond 2022 has the potential to have significant impact on how people search for, interact with and consume information in virtual reality experiences."
For more information about 'Beyond 2022: Ireland's Virtual Record Treasury' click here.