French minister Nicolas Hulot denies harassment allegations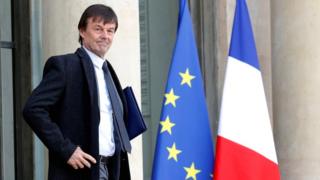 A minister in French President Emmanuel Macron's cabinet has denied rumours of sexual harassment, two weeks after another was accused of rape.
Environment Minister Nicolas Hulot, one of Mr Macron's most popular cabinet members, rejects any wrongdoing.
Prime Minister Edouard Philippe has offered his support, saying there was "no reason to doubt his words".
Last month, prosecutors reopened an inquiry into rape allegations against Budget Minister Gérald Darmanin.
A woman described as a former call girl accuses him of pressuring her into sex in 2009 in exchange for helping her clear her name in a legal dispute.
She filed a complaint against Mr Darmanin shortly after the May 2017 presidential election, but the investigation was closed after she failed to attend questioning by police, reports say.
After the preliminary investigation was reopened, Mr Darmanin's lawyers accused her of a "crude attempt to harm" the minister's reputation and said he was suing her for slander.
A conservative politician with working-class roots, Mr Darmanin was expelled from the centre-right Republicans party last year for joining Mr Macron's Republic on the Move movement.
'Nightmare'
The well-known presenter of a TV adventure programme, Mr Hulot has campaigned for environmental protection for decades.
Mr Macron was the first president to successfully convince the popular environmentalist to join his government after Mr Hulot turned down previous invitations from Jacques Chirac, Nicolas Sarkozy and François Hollande.
Some of the allegations against Mr Hulot are due to be published in a French magazine on Friday, but he has been the subject of rumours for some weeks.
The environment minister was questioned by BFMTV on Thursday about accusations from "the granddaughter of a famous politician" dating back to 1997. Mr Hulot admitted the woman had filed a complaint in 2008, but said that the case had been dismissed.
"I was questioned at my own request and investigators very quickly concluded that there was nothing suggesting the case should be followed up," he said.
"It hurts, when it's wrongful and unfounded. Yesterday, my children were in tears," Mr Hulot told the channel, describing the situation as "a nightmare" and the rumours as "shameful".
Mr Philippe said Mr Hulot was not expected to resign as he had not been placed under judicial investigation.
Mr Hulot also denied suggestions that a former female colleague had accused him of harassment.
"The worst thing is that she has already been questioned by some of your colleagues and she gave the same answer," he told BFMTV.
The colleague in question has also denied the rumours, adding: "I have no comment to make on a case that is not one," French media report.