Germany coalition: SPD's Schulz gives up cabinet role to save deal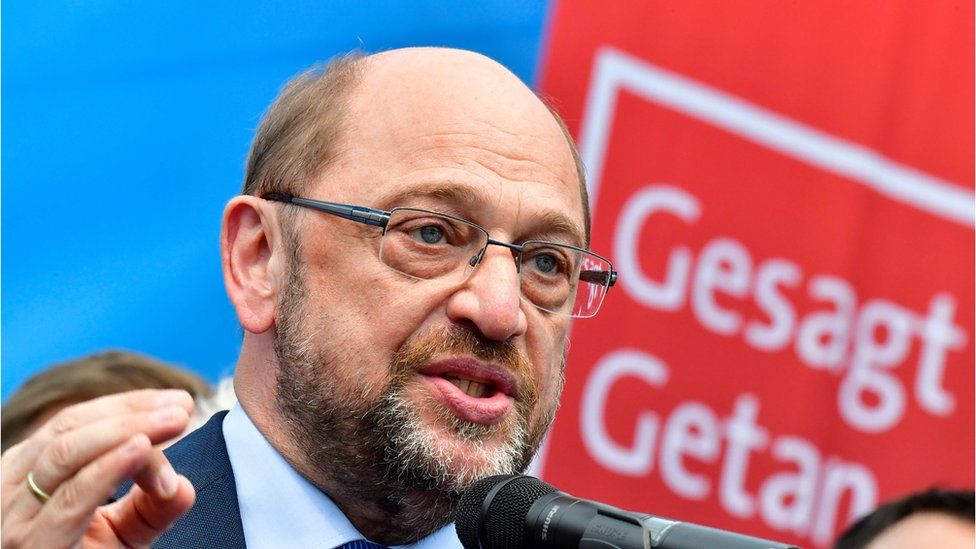 The leader of Germany's Social Democrats (SPD), Martin Schulz, has abandoned a plan to serve as foreign minister in a new coalition government.
A deal to govern with Chancellor Angela Merkel's conservatives still has to be put to a vote of SPD members.
Mr Schulz, facing criticism inside the SPD, said he did not want debate about his role to jeopardise a new coalition.
The centre-left party is on course to run six ministries, including finance and foreign affairs.
"I hereby declare my decision not to join the federal government and at the same time I sincerely hope that this will end the personnel debates within the SPD," said Mr Schulz.
German media report that SPD members in the state of North Rhine-Westphalia were especially opposed to Mr Schulz - formerly European Parliament president - becoming foreign minister.
Tensions are also reported between him and Sigmar Gabriel, an SPD colleague who is currently foreign minister.
Read more on this subject:
There has been more than four months of coalition negotiations - a German post-war record - since inconclusive elections in September.
Many in the SPD fear that re-entering a coalition with Mrs Merkel's Christian Democrats (CDU) and the Bavarian CSU could damage the party in the long term.
The SPD's 460,000 members will have the final say on the whole agreement in a postal vote, the result of which will be announced on 2 March.
Those opposed to any deal with Mrs Merkel include a new group within the SPD calling itself NoGroKo (no grand coalition).
The SPD and CDU both had their worst results for decades in the election, which catapulted the far-right Alternative for Germany (AfD) into parliament for the first time, with 94 seats.