Italy migrants attack: Macerata shooting reveals a bitter national debate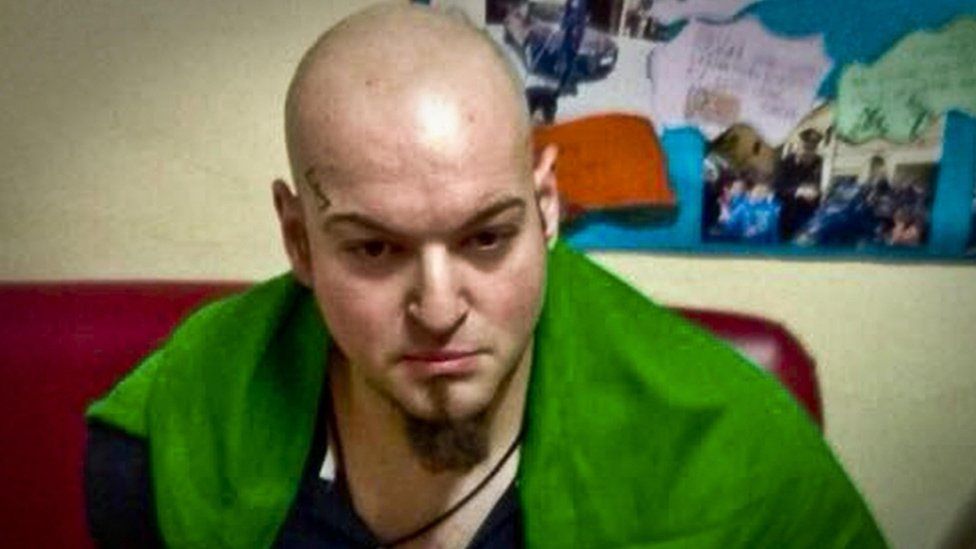 "I've not been in Italy long," says 29-year-old Jennifer Otioto from her hospital room. "I left Nigeria and I found myself here."
On the morning of 3 February, Otioto was waiting at a bus stop in the town of Macerata.
A 28-year-old Italian man, Luca Traini, drove towards her in his Alfa Romeo and shot her.
Otioto, a hairdresser, is now recovering from her gunshot wound. She sits next to her hospital bed, speaking so quietly that it's hard to make out her words.
"I don't understand this kind of trouble," she says.
He appeared to target anyone who looked like they'd come from Africa.
Kofi Wilson, 20, from Ghana had been on his way to get a haircut. He was shot in the chest.
"We heard the first gunshots," Wilson remembers. "After the first gunshots I said, 'It's not a gun', because we are in Europe."
"It's not my choice to be a black [person]," he continues. "It was a bad idea to [try to] kill a black person."
Kofi Wilson has been in Italy for 17 months. The shooting has not made him change his mind about his future. He has no plans to return to Ghana.
"I [would] like to stay in Italy maybe for the rest of my life."
But the truth is that many Italians would like to see him and others go.
Over the last four years, more than 600,000 migrants have landed in Italy.
Not all have stayed. But their arrival has changed the country.
The far right accuses migrants of importing crime and disease.
It's a rhetoric that attracted Luca Traini. Last year he stood as a candidate in a local election for the anti-immigrant Northern League. That was before his views led to him shooting and trying to kill six people but during the last year, his friends in Macerata began to notice his extremist views.
"Luca changed suddenly," remembers Francesco Clerico, the owner of Robby's Gym.
"In the gym he started expressing extreme views about race. We were very surprised.
"Luca Traini is not a bad person, he is just ignorant and takes everything to the extreme.
"He was constantly looking for a community and he found it in the extreme right, which seduced him. Someone like him, in such a fascist and racist atmosphere, was a ticking time bomb that could explode at any moment."
That explosion happened on 3 February. After shooting six migrants, Luca Traini parked in front of the Monument of the Fallen - an archway built during the Mussolini era. He gave a fascist salute, and was then arrested.
"To victory," the inscription on the archway reads. The victory the gunman wants is an Italy without migrants.
The party Traini supports, the Northern League, is an increasingly powerful force in Italian politics.
It's running in the 4 March general election alongside the party led by the former Prime Minister Silvio Berlusconi.
Opinion polls suggest that this alliance may defeat the centre-left government.
Italy's most powerful anti-migrant movement now stands close to a potential share of national power. That scares many Italians.
"We are anti-fascists," they chanted.
The fact that thousands feel that it's necessary to come out and say this tells you a lot about Italy right now.
"Being here is an important gesture for the entire country," says 25-year-old student Marianna, "because we're seeing a wave of racism and fascism not just here but across Italy".
Macerata itself shut down during the demonstration.
Police officers in riot gear were deployed in case far right groups tried to disrupt the event. A day later, the town's shops reopened.
Forty thousand people live in this town. The Mayor of Macerata, Romano Carancini from the governing Democratic Party, estimates that 9% of the town is now made up of migrants.
In a country which lacks long-established ethnic minority communities, this is a notable increase. Many of the new arrivals in Macerata are young men.
"For many years now, this town has welcomed and integrated people," the mayor says,
"This is not a racist town. But in the last year and a half, the increase in migrant arrivals has given rise to a sense of unease."
This hilltop town, once largely ignored, now finds itself at the centre of a bitter national debate about migration and fascism.
The arguments here may decide next month's general election.
A note on terminology: The BBC uses the term migrant to refer to all people on the move who have yet to complete the legal process of claiming asylum. This group includes people fleeing war-torn countries such as Syria, who are likely to be granted refugee status, as well as people who are seeking jobs and better lives, who governments are likely to rule are economic migrants.