Johnny Hallyday's children contest exclusion from his will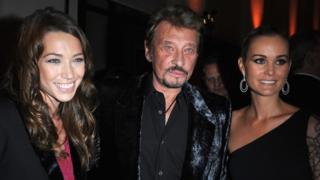 The children of French rock star Johnny Hallyday are contesting his will after he left everything to his fourth wife Laeticia and their adopted daughters.
In a statement, actress Laura Smet said she was "stupefied and hurt" after learning she had been left nothing from her father's estate.
His biological son David is also contesting, the AFP news agency says.
The singer, who was hugely popular in his native France, died in December aged 74 from lung cancer.
Ms Smet, 34, said she was shocked to be left without even a souvenir in her father's will, "not even the sleeve of the song Laura", which was dedicated to her.
In a letter addressed to her father and published in French media, she complained she had not "been able to say goodbye".
"I would have preferred all this to stay with the family, unfortunately, in our family it's like this," she wrote.
Her lawyers maintain the will, drafted in California, contravenes French laws that prevent children being disinherited.
The rocker married Laeticia in 1996. They then adopted two Vietnamese-born daughters, Jade and Joy.
According to the statement, the will stipulates that in the event of Laeticia dying, then the estate goes to the adopted children only.
Hallyday, whose real name was Jean-Philippe Smet, was often referred to as "the French Elvis".
The singer sold about 100 million records and starred in a number of films, but failed to crack the English-speaking market.
Hundreds of thousands of people came out to pay tribute to him after he died from lung cancer aged 74 in December.