French gangster Jacques Cassandri on trial for 1976 'heist of century'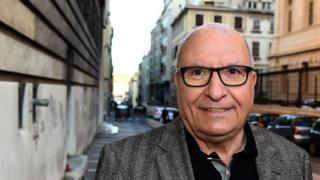 A French gangster who wrote a book saying he masterminded the country's "heist of the century" has gone on trial 42 years later.
It was carried out by a gang who spent months tunnelling from the sewers in Nice into a bank vault in 1976.
Jacques Cassandri, now 74, published his account eight years ago, when he could no longer be tried for robbery.
But he is being prosecuted for money-laundering - for which there is no statute of limitations in France.
The robbery at the Société Générale branch in Nice on the French Riviera has inspired several books and a major film.
The gang used rubber rafts in the sewers, installing hundreds of metres of electrical cables for lighting, to reach the place where they dug an 8m (26ft) tunnel to the bank's basement.
They broke into the vault during a weekend, went through almost 200 safety boxes and made off with 46 million francs - the equivalent of 29 million euros ($36m; £26m).
Pen name
Only one man was ever arrested for the robbery, Albert Spaggiari. He escaped in 1977, as he was about to be tried, and died in exile 12 years later.
While on the run, Spaggiari wrote a book confirming police claims that he was the mastermind.
But in 2010 when Mr Cassandri published his book under a pen name, investigators concluded that the author was in fact the leader of the gang.
They quickly identified Mr Cassandri - a well-known gangster in Marseille. He admitted to police that he took part in the robbery but has denied the money-laundering charges.
"This book is a novel, and a novel is not a piece of evidence," a defence lawyer told AFP news agency.
Mr Cassandri says he only made the equivalent of 2m euros from the burglary and quickly spent it.
Prosecutors argue that he has continued to lead a lavish lifestyle on the proceeds.