Scandal of Irish PM's transparent pancake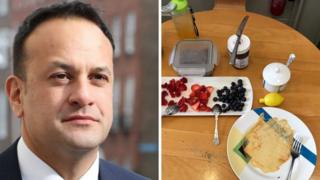 Ireland's Taoiseach (Prime Minister) Leo Varadkar has prompted a culinary Twitter storm after he posted a photo of his Pancake Tuesday treat online.
The batter-mix indulgence in question is so thin that it's literally transparent.
Irish citizens were quick to draw political inferences from Mr Varadkar's Shrove Tuesday delicacy.
"Only a 5m euro spin unit could call that sliver of an idea of a pancake a treat," Catcherys commented on Twitter.
ConorH took a sly dig at the taoiseach's party, Fine Gael: "That pancake is the most disappointing thing I've seen from FG since the handling of water charges."
The last thing you need when you're taking a battering is a comment from a party colleague.
In this case fellow Fine Gael TD (member of parliament) Noel Rock, who described his boss's pancake as "woeful".
Lawrence Hood came over all philosophical: "If politicians were half as transparent as that sole and lonely pancake the world would be a better place."
Some voters were far from impressed, including Shay Kinsella, who wrote that he would prefer for Mr Varadkar to be "known for doing his job".
Erica Murphy took the Emperor's New Clothes approach: "Why's your pancake see-through?"
And Debbie O'Callaghan took her cue from Ireland's religious heritage. "Looks more like holy communion than a pancake," she wrote.
Eoin Treanor didn't miss and hit the wall with his comment - and advised him to thicken the batter next time round.
Perhaps the reason for the super-thin pancake could lie with Mr Varadkar's fitness fanatic lifestyle.
In December, he raised eyebrows by arriving at an emergency cabinet meeting still dressed in his running vest.
At a subsequent press conference, the taoiseach was expecting a grilling on Brexit but found that journalists were more interested in his sweaty gym gear.
Mr Varadkar found the funny side of it, before saying, "I think we'll stick to the serious questions for today, if that's OK."
Meanwhile, back with the sad pancake, Honey Toast took an artistic approach.
And the final word goes to Rosie, whose tweet stretches beyond the pancake to the taoiseach's choice of kitchenalia, and expresses a profound sense of disappointment and gloom.
"There's so much wrong with this. Bad "pancake", mismatching cutlery, the state of the table, that lemon thing from 1980, and this was a treat? Poor show. Expect a drop in your approval ratings."