Six Turkish journalists jailed for life for 'coup links'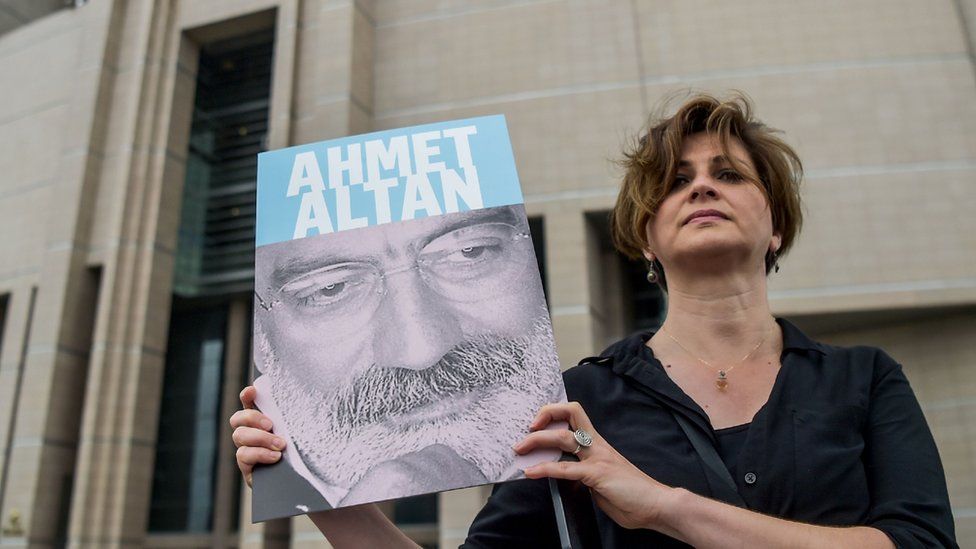 A Turkish court has sentenced six journalists to life in jail for alleged links to the July 2016 coup plotters.
The judgement came as another Turkish court decided to release German-Turkish journalist Deniz Yucel, who has been held for a year without charge.
The six were found guilty of links to US-based Islamic preacher Fethullah Gulen, blamed over the failed coup.
The court ruling was condemned by human rights groups, including the UN and OSCE representatives on media freedom.
"These harsh sentences are an unacceptable and unprecedented assault on freedom of expression and on the media in Turkey," said David Kaye, the UN Special Rapporteur on the right to freedom of expression, and Harlem Desir, the representative on media freedom for the Organization for Security and Co-Operation in Europe (OSCE).
The six sentenced journalists are Nazli Ilicak, Ahmet Altan, Mehmet Altan, Fevzi Yazici, Yakup Simsek and Sukru Tugrul Ozsengul.
The Istanbul court found them guilty of "attempting to abolish the order prescribed by the Turkish constitution or to bring in a new order", Turkish media reported.
All six denied the charges.
The Altan brothers - both veteran journalists and writers - were accused of giving coded messages in a television talk show on the eve of the coup attempt.
Nazli Ilicak is also a well-known journalist in Turkey and has written for a number of newspapers, including Hurriyet and Sabah.
Military officers led a mutiny against President Recep Tayyip Erdogan on 15 July 2016 which resulted in the deaths of 250 civilian protesters.
Read more on the crackdown in Turkey:
Since the abortive coup the Turkish authorities have jailed more than 50,000 people and dismissed more than 150,000 public servants, including journalists, teachers, police and justice officials.
Mehmet Altan, who is also an economics professor, had won a constitutional court ruling in his favour - but it was overruled on Friday.
Separately, Die Welt journalist Deniz Yucel - who holds German-Turkish dual citizenship - was freed from jail on Friday. He had been accused of spreading propaganda.
By Mark Lowen, BBC Turkey Correspondent
I watched last year as President Erdogan spoke of Deniz Yucel at a political rally. "They are hiding a terrorist, a spy, in the German embassy," he bellowed, to roars of approval. "Merkel asked me to release him. I told her we have an independent judiciary. He'll pay for being a terrorist."
Today Deniz Yucel was released, after more pressure by the German chancellor. "It seems like some problems in our relations have disappeared," the Turkish prime minister told reporters. Yet Turkey still claims judicial independence.
Was there a deal for his release? We'll never know. But while the biggest impediment to improved Turkish-German ties has been removed, several more remain.
A German human rights activist still faces trial here. Germany has repeatedly criticised the erosion of democracy in Turkey. And Turkey accuses Germany of harbouring terror supporters. The two countries need each other, but mistrust and bad blood run deep.
The Yucel case was an irritant in German-Turkish relations, and on Thursday Chancellor Angela Merkel had pressed for his release.
Mr Yucel, 44, was arrested in Istanbul a year ago and accused of writing propaganda in support of terrorism.
Turkey labels separatist militants in the Kurdish community as "terrorists".
The arrest came after Mr Yucel reported that the Turkish energy minister's email account had been hacked.