Latvian central bank boss released on bail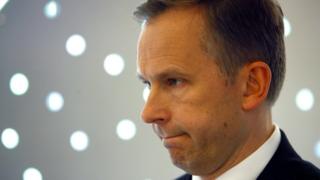 The head of Latvia's central bank has been released from police custody on bail as investigators seek to determine whether or not he solicited a bribe.
The country's anti-corruption agency says Ilmars Rimsevics sought a payment of at least €100,000 (£88,600; $124,100).
He was arrested and questioned on Saturday, and his home and offices were searched.
A lawyer for Mr Rimsevics told the BBC his client denied any wrongdoing.
The Bank of Latvia says it has a "zero tolerance" policy towards corruption and was co-operating with investigators.
The anti-corruption agency says the criminal investigation is not related to money-laundering accusations levelled against the country's third largest bank, ABLV, by the US Treasury.
Last week, the US launched a stinging attack on ABLV, accusing it of enabling transactions linked to North Korea's weapons program, and of facilitating corruption connected to Azerbaijan, Russia and Ukraine.
The European Central Bank has responded by blocking all of ABLV's payments, which has forced the bank to seek emergency financial support.
Meanwhile, another Latvian bank, Norvik Bank, is taking action against the state, claiming that a "senior Latvian" official abused their position and sought bribes.
Latvia's Prime Minister, Maris Kucinskis, has chaired an emergency cabinet meeting amid the turmoil.
Earlier he said that Mr Rimsevics' detention did not pose any national threat, but he also called for him to resign.
"I can't imagine that a governor of the Bank of Latvia detained over such a serious accusation could work," the prime minister said on Latvian television.
Mr Rimsevics is also a member of the European Central Bank's governing council.
No charges have been brought against him so far.
A businessman, Maris Martinsons, was also detained at the weekend but later released.
The Bank of Latvia said it was operating normally - "business as usual" - while the investigation continued.