Draft abortion referendum law agreed by Irish cabinet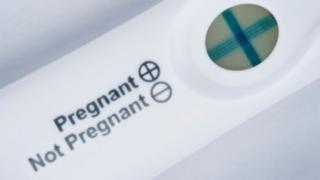 The Irish cabinet has agreed draft legislation on a referendum to repeal the constitution's eighth amendment on abortion.
The amendment, introduced in 1983, gives an equal right to life to a pregnant woman and an unborn child.
Ireland is to hold a referendum this year on whether to change the country's abortion laws, which are among Europe's strictest.
The draft legislation sets the process in motion.
The cabinet also agreed a draft wording that would be inserted in the Constitution should people vote to repeal the Eighth Amendment.
The wording, seen by RTÉ News, is: "Provision may be made by law for the regulation of termination of pregnancies."
This effectively would make it clear that the Oireachtas (parliament) had the power to legislate in this area.
'Busy few weeks'
The full and final text of the referendum bill will be finalised and published on 6 March.
A policy document will be unveiled by the government on the same day.
It will set out in general terms the legislation that would go before the Oireachtas, should people vote to repeal the eighth amendment.
That document will contain the proposal to allow unrestricted abortion during the first 12 weeks of pregnancy.
Thousands of Irish women go abroad every year to have an abortion.
Health Minister Simon Harris tweeted that there would be "a busy few weeks ahead on an extremely important issue".
Abortion in the Republic of Ireland
The Republic of Ireland has a near total ban on abortion.
In 2013, abortion was permitted for the first time in the country under certain conditions - when doctors deem that a woman is at risk of taking her life, or that her life is at risk due to medical complications.
The law does not allow for terminations in cases of rape or incest, or when there is a foetal abnormality.
The law was introduced in the wake of the case of an Indian woman, Savita Halappanavar, who died in a Galway hospital in 2012 after she was refused an abortion.
The eighth amendment to the Republic's constitution, introduced in 1983, "acknowledges the right to life of the unborn".
In what was known as the X Case of 1992, a 14-year-old rape victim was initially prevented from travelling to England to terminate her pregnancy.
This ruling was overturned by the Irish Supreme Court and a referendum approved a further update to the constitution, stating that the eighth amendment did not restrict the freedom to travel to another state.