Poles told to report 'anti-Polish slander' to diplomats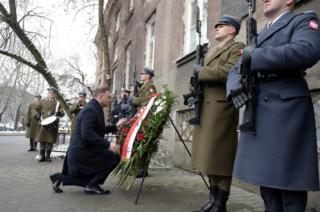 Poland's top senator, Stanislaw Karczewski, has urged his compatriots worldwide to notify diplomats about anyone who slanders the Polish nation.
Senate Marshal Karczewski's plea came in an open letter condemning "insults" suggesting Polish complicity in Nazi Germany's World War Two atrocities.
A controversial new Polish law makes it illegal to accuse the Polish nation or state of any complicity in Nazi crimes.
Critics fear the law could stifle the truth about the role some Poles played.
"Please document and react to all anti-Polish hostility, expressions and opinions that harm us. Notify our embassies, consulates and honorary consuls of any slander affecting the good reputation of Poland," Mr Karczewski's letter said (in Polish).
"I call all our compatriots... to document and gather any testimony of atrocities and crimes against humanity committed during World War Two."
He said that, before the surviving witnesses to the Holocaust and other Nazi atrocities die, "it is necessary to record their memories, in order to remember all and any wrongdoing against Jews, Poles, Romani people and any other victims".
Read more on this topic:
The Nazis murdered an estimated six million Jews - mainly in death camps in occupied Poland - and millions of other people they considered to be "racially inferior". Among the biggest groups were Poles and Soviet prisoners-of-war.
Mr Karczewski's letter says "six million Poles died, including three million Polish Jews".
Opponents of the Polish nationalist government's drive to revisit history, including Israel and the US, worry that it may distort the truth, glossing over cases of Polish anti-Semitism and other Polish abuses.