Latvia central banker Rimševics 'targeted by disinformation'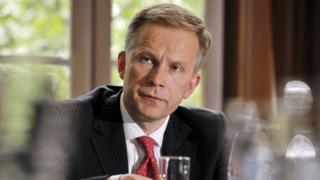 Latvia's defence ministry says the corruption allegations that led to the detention of the country's central bank chief could be part of a disinformation operation directed from abroad.
It said similar operations, aimed at influencing elections, had been seen in France, Germany and the US.
The ministry did not say who was behind the purported smear and the evidence for its allegation was unclear.
However, Latvia's relations with Russia have been tense for several years.
Ilmars Rimševics was released on bail on Sunday. He denies having demanded a $120,000 (£85,000) bribe.
He has been suspended from his post and Prime Minister Maris Kucinskis on Tuesday called for him to step down. Mr Rimševics, whose home and offices have been searched by anti-corruption authorities, added that he would not resign.
The defence ministry said there was a "high probability that [a] massive information operation" had been conducted from abroad..
Such a campaign would aim to damage trust in the government and influence elections due in October, it added. Russia has denied meddling in foreign election campaigns, although it has been directly accused of interference by US intelligence as well as by France and Germany.
The ministry also queried the provenance of a photo accompanying an Associated Press news agency story in which the allegations first appeared, and said the story had been widely picked up by news outlets that do not usually publish items about finance or Latvia.
In an interview broadcast on Tuesday, Mr Rimševics said the allegation, made against him by the Russian owner of a Latvian bank, marked a "very important moment" for Latvia as a whole.
He said some Latvian banks "wanted blood" after their activities were curbed following Latvia's accession to the eurozone.
Latvia's Norvik Bank is taking action against the Latvian state, claiming that a "senior Latvian" official abused their position and sought bribes.
Latvia's anti-corruption agency says the criminal investigation against Mr Rimševics is not related to money-laundering accusations levelled against the country's third largest bank, ABLV, by the US Treasury.
Last week, the US launched a stinging attack on ABLV, accusing it of enabling transactions linked to North Korea's weapons program, and of facilitating corruption connected to Azerbaijan, Russia and Ukraine.