Irish abortion referendum: Every vote counts in emotive poll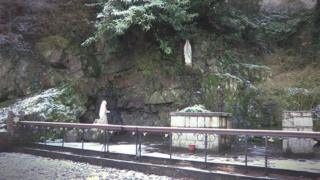 It is a cold morning despite the sunshine, and snow lines the grotto behind the Catholic church at Granard, County Longford, in the Irish midlands.
It was here beneath the gaze of a statue of the Virgin Mary on a similar January day that Ann Lovett, a 15-year-old schoolgirl, died giving birth to a baby son.
She and her child died in 1984.
It was just four months after voters in the Republic of Ireland put the 8th amendment into the constitution giving equal rights to life to the mother and the unborn child.
At the time, it was reported that neither her family nor people in her school knew she was pregnant.
Her story is just one about how Irish society deals with women and crisis pregnancies.
Others include the Catholic and Protestant mother and baby homes with their unmarked graves, the 14-year-old schoolgirl known as X who was, for a time, officially prevented from leaving the Republic of Ireland for a termination, and Indian dentist Savita Halappanavar, who died from sepsis after being told earlier that she could not have an abortion.
The latest chapter in this saga will be written when voters go to the polls, probably at the end of May, to decide whether to repeal the 8th amendment and, in future, allow the legislature to deal with abortion.
There have already been five referendums related to the issue, including the original 1983 one.
Tara Flynn, an actress and comedian, will be campaigning for repeal. She has just done something very rare for an Irish woman.
She talked on camera about a very private matter - her decision to terminate a crisis pregnancy after a failure of contraception during a very difficult period in her life.
"My body knew it before my brain did that I needed an abortion. And I knew nothing about them because in Ireland we didn't talk about them at all," she said.
'Less extreme'
Ms Flynn said most people who know the story of her Dutch abortion have been very kind and understanding, but not everyone has.
"I've been called a murderer; I know that I'm not... I don't equate a foetus with a living, breathing person.
"When I talk to other less extreme people and say 'Do you think I'm a murderer?' and 'Do you think I should be in prison?' They say 'No, no'. They feel discomfort about it. They don't believe that, but they haven't had the space to think about it."
Abortion is something people in the Republic of Ireland are going to have to think about a lot in the coming weeks and months.
The 1983 amendment has not stopped tens of thousands of Irish women travelling abroad to end their pregnancy.
The latest official government figures show nine a day giving Irish addresses leaving for the UK and four a day importing pills from the internet to induce a termination without medical supervision, thus risking a 14-year jail sentence.
'More tolerant'
Anti-abortion groups who dispute the abortion pill numbers will be campaigning to save it, saying there are two sets of human rights at stake - that of the mother and the unborn.
Niamh Uí Bhriain, from the Save the 8th campaign, says there has been a lot of talk about "reality" recently.
"One reality is being ignored and that's the reality that abortion kills a baby and hurts a mother," she said.
"The other reality is that we have a low abortion rate here in Ireland. In fact, the number of women travelling for abortion has fallen by 50% since 2001 and that fall began long before abortion pills became available.
"Fewer women are having abortions precisely because Irish society became more open, more tolerant, more compassionate and gave women better support."
When voters go to the polls in the referendum they will be given to understand that if they vote to repeal, they will also be voting to allow unrestricted access to abortion for the first 12 weeks of a pregnancy.
Speaking in the Dáil, the Irish lower house of parliament, Taoiseach (Irish prime minister) Leo Varadkar, who is a doctor, said that for him, the issue was fundamentally about trusting women and their doctors.
It means "trusting women in the first 12 weeks of their pregnancy to decide what's best for them, whether or not to continue with their pregnancy. Beyond 12 weeks, trusting doctors to allow it (abortion) on medical grounds".
But if the people vote for repeal, there is no guarantee that the Dáil will pass the 12-week proposal.
Some believe that recent comments by Tanaiste (Irish deputy prime minister) and foreign minister, Simon Coveney, might add to the confusion.
"He said he's in favour of repeal," said Mary Minihan, a journalist with the Irish Times.
"But he's not happy with the 12-week proposal afterwards. That is where there are going to be problems for the government. He has given political cover to some other anti-abortion politicians and that's going to make things quite tricky for Leo Varadkar."
Opinion poll
Of course, it is still early days with the governing party, Fine Gael, and the main opposition party, Fianna Fáil, both saying they will allow free or conscience votes on the issue if the people vote to repeal.
But Anne Rabbitte, a Fianna Fáil TD who describes herself as pro-life and who wants to save the 8th amendment, said she would have to respect the result and, if needs be, vote for 12 weeks because in the Republic of Ireland, unlike in the UK, it is the people rather than the parliament that is sovereign.
"As a legislator, I will work for the will of the people with whatever the result is," she said.
Opinion polls currently suggest there is a majority in favour of repeal but everybody believes that gap will narrow significantly in the coming weeks.
In the meantime, activists on both sides of the argument are preparing for future battles.
For those supporting repeal, it is about facing up to reality and no longer colluding in a lie at a time when Ireland exports its abortion problem and imports its solutions.
"The question is would you force someone to remain pregnant against their will? And if you would, what would you do to enforce it? How does that look? Do you detain me? Do you shackle my hands? Do you do pregnancy tests at the airport? It doesn't work. You can't legislate for it," said Tara Flynn.
"Let's acknowledge that it happens, that it has always happened, it will always happen and let's keep people safe."
But for Niamh Uí Bhriain, the Republic of Ireland is at a crossroads facing fundamental questions such as "Do we want to be a society that loves and protects both mother and baby recognising both their vulnerabilities or do we want to be a society that simply decides where, when there's a problem, we will kill the child?"
If the government gets its way, the referendum will take place before Pope Francis's expected visit to Ireland in August and before liberally-minded university students leave the country for summer work abroad and holidays.
Both sides know that, on this most emotive of issues, every vote counts.