Syria war: Who are Russia's shadowy Wagner mercenaries?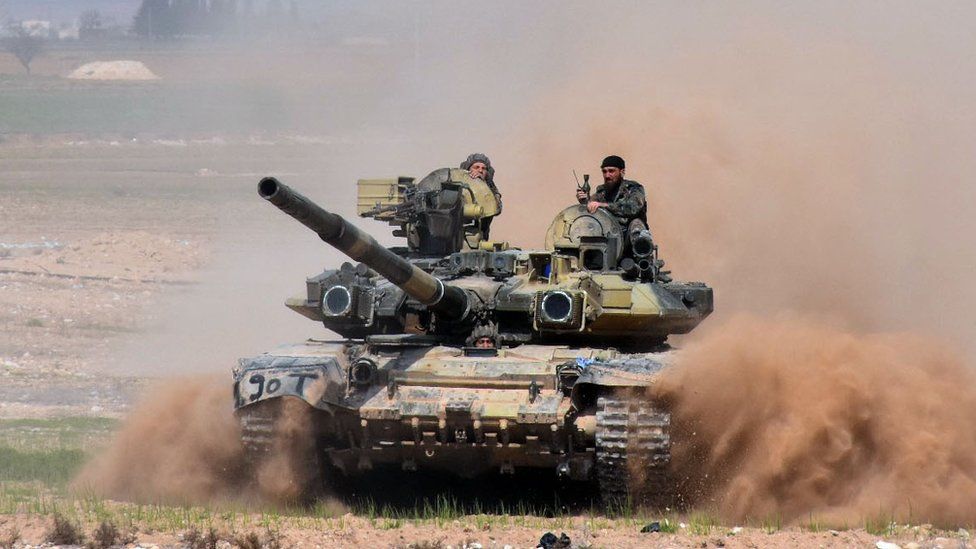 Russian mercenaries are reported to be in the thick of the fighting in Syria, helping President Bashar al-Assad's forces.
One shadowy group in particular, called Wagner PMC (Private Military Company), hit the headlines because of a clash on 7 February that resulted in dozens of Russian casualties.
The toll of dead and wounded is disputed, but it is still not clear why Russian irregulars attacked a base held by Kurdish anti-Assad forces and where US advisers were present. US forces retaliated with air strikes.
What is known about Wagner?
In June 2017 the US Treasury added Wagner PMC to a long list of Russian individuals and entities subject to sanctions because of their involvement in the Ukraine conflict.
The PMC "has recruited and sent soldiers to fight alongside separatists in eastern Ukraine", the US Treasury said.
The US also identified Dmitry Utkin as Wagner's "founder and leader" and placed him on the list.
Russian media reports, quoting anonymous military sources, reveal that Mr Utkin earlier served in a special forces brigade of Russian military intelligence, the GRU. Then in 2013 he went to Syria with a group of fighters recruited by a company called "Slav Corps", reports say.
The GRU secretly oversees Wagner, according to security sources quoted by Russian RBC news. Russia's official military deployment in Syria began in September 2015; it has mostly taken the form of air strikes, sometimes hitting civilian areas hard.
Wagner is estimated to have as many as 2,500 men in Syria.
Its officers serving in Syria are reported to earn up to 300,000 roubles (£3,800; $5,300) a month.
According to media analysis by BBC Monitoring, Wagner uses a training base at Molkino, in the Krasnodar region of southern Russia, not far from eastern Ukraine.
Read more on Russia and the Syria conflict:
Why would Russia need mercenaries?
The mercenaries can be deployed in especially tough ground fighting alongside Syrian government troops. And as the Russian government does not officially recognise the mercenaries' existence it can deny or play down any Russian casualties.
Their role has been compared to that of US military contractors in Iraq, who were deployed on a large scale.
The US suffered heavy casualties in Vietnam, and later the Afghanistan war was very costly for Russia. Those wounds - and the associated public anger - encouraged both countries to privatise war in recent years.
Military sources quoted by RBC said that when Russia helped Assad forces to recapture Palmyra it was the Wagner men who went in first. "First Wagner's guys go to work, then the Russian ground units come in, and then the Arabs and the cameras," an unnamed ex-Wagner officer said.
Wagner is believed to be funded by Yevgeny Prigozhin, a rich businessman close to President Vladimir Putin. Mr Prigozhin is on the US sanctions list because of his links to the eastern Ukraine separatists.
In December 2016 the US Treasury said Mr Prigozhin had "extensive business dealings" with the Russian defence ministry and was linked to the construction of a new military base near Ukraine.
What about the Russian debacle on 7 February?
According to the report, intercepted communications showed that Mr Prigozhin was also involved in the operational planning with Syrian officials, ahead of the attack.
On 8 February, a Pentagon spokeswoman said that coalition forces waited to engage the Russians until their artillery was falling within 1,640ft (500 metres) of the US-backed Syrian Democratic Forces (SDF) headquarters.
Dana White told reporters that the US and Russia were "in regular communication with Russian counterparts before, during and after the attack" via the so-called de-confliction line of communication between the two nations.
"Russian officials assured Coalition officials they would not engage Coalition forces in the vicinity," she added.
Mr Prigozhin's involvement is reported to be via a company called Evro Polis Ltd.
Last month the US Treasury added Evro Polis to the sanctions list, describing it as "a Russian company that has contracted with the government of Syria to protect Syrian oil fields in exchange for a 25% share in oil and gas production from the fields". It said the company was "owned or controlled" by Mr Prigozhin.
What else is known about Yevgeny Prigozhin?
The US government links him directly to Russian interference in US politics and the 2016 presidential election.
Mr Prigozhin shrugged off the US charges, saying "Americans are very impressionable people". "If they want to see the devil, let them see him," he quipped.
Like many other close associates of President Putin, he grew up in St Petersburg and got rich during the turbulent 1990s transition from communism to free market capitalism.
He is known as "Putin's chef", having provided prestigious catering services for the Kremlin.
Born in 1961, he spent several years in jail in the Soviet period but found a flair for business by selling hot dogs in 1990. His catering interests expanded.
He ran a fast food chain, some fancy restaurants and later became a major caterer to the armed forces.
Now his two main companies are on the US sanctions list: Concord Management and Consulting, and Concord Catering.
Reporting by the BBC's Laurence Peter