Italian election dominated by immigration debate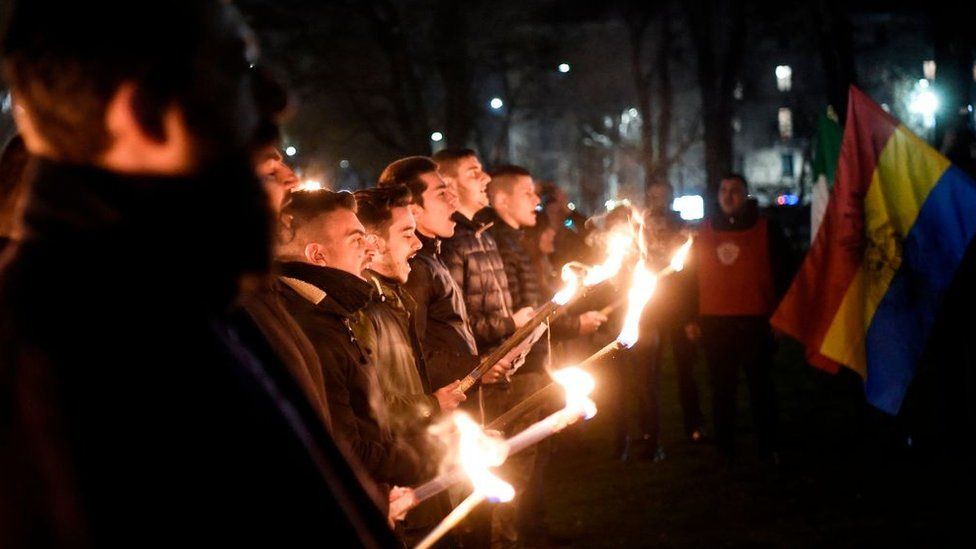 Standing opposite an arch commemorating Italy's liberation from fascism at the end of the World War Two, a group of men dressed in black are huddled beneath a gazebo. They're supporters of Casa Pound - a fringe political party that claims to be inspired by the poet Ezra Pound.
Massimo Trefiletti proudly proclaims himself and his party as fascists. The irony of standing opposite a monument to their defeat doesn't escape him. Mr Trefiletti says 25 April 1945 isn't a day of national pride but of loss. As for the future, he wants Italy to turn its back on the EU, close its borders and deport all the immigrants.
Casa Pound is supported by a tiny minority of Italians but its nationalist, anti-immigrant rhetoric is being echoed by other parties in the run-up to the country's general election on 4 March.
About 600,000 people have made the perilous journey across the Mediterranean and landed on Italian shores in the past four years. Now, Italian politicians of all stripes are competing to show they will be tough on these new and increasingly unwelcome arrivals.
If the polls are to be believed - and they are being treated with caution, as Italy's election is being held under a new voting system - the centre-right coalition, led by Silvio Berlusconi's Forza Italia, is in the lead.
Mr Berlusconi has described the illegal migrants living in Italy as a "social time-bomb ready to explode", and has pledged mass deportations.
League, formerly known as the Northern League, is the other main member of that coalition. Its leader, Matteo Salvini, is a friend of France's far-right opposition leader Marine Le Pen and an admirer of Russia's President Vladimir Putin. His slogan is "Italians first".
In the party's sprawling regional headquarters in Milan, I meet Paolo Grimoldi, a League deputy who is running for another term in parliament. In his smoke-filled office, he tells me Italy should be able to choose who can come and live here.
"It's better to take immigrants from Ukraine... they are Christians, or from Belarus, they are not Muslims and they cannot be terrorists. I want to have the right to make choices. I think in this moment, we don't need immigrants."
Mr Grimoldi supports the efforts of French and Austrian police to send back to Italy illegal migrants who try to cross the border. "Our government chose to take illegal immigrants - this is the reason why France is checking on the border... if you take an airplane from London to Moscow or Ankara they will ask to see your documents... I think it should be normal."
About 20 minutes away, on the other side of Milan, a group of teenage boys plays table tennis. They are migrants, many of whom arrived in Italy as unaccompanied minors. They wait for an English lesson to start at a centre run by Save the Children.
Jawad is 17. His family is in Morocco. He chews gum and giggles nervously as he explains how he came to Italy alone. He wants a better life and isn't deterred by the idea of a hostile Italian public.
"I know that some people here are xenophobic... Some believe that diversity is good for Italy but others see us as a threat. I cannot change the way people think."
And judging by the stance of the main political parties, the election rivals believe most Italians see the migrants as a threat.
Polls suggest the anti-establishment Five Star Movement may be the single most popular party among voters. It is Eurosceptic and it, too, takes a hard line on the migrant issue and puts the blame on the EU. Manlio Di Stefano, a party deputy, says: "[Those] who come here, need to be integrated in a real way. We are taking money just to be the open port of the European Union, that's not fair."
The number of people arriving on Italian shores has dropped dramatically - in part due to an EU policy, led by Italy, of helping the Libyan authorities to intercept migrants trying to cross the Mediterranean and return them to detention centres in Libya. The policy has been criticised by the UN as inhumane. This has happened under the current government, led by the centre-left Democratic Party (PD).
But Lia Quartapelle, a deputy for the PD, says it is the best solution.
"Asking the Libyan authorities to take care of their borders is THE way to tackle illegal flows and to stop the smugglers," she says.
She argues that aid workers and international reporters have only been able to investigate the conditions because of the agreement. But as the incumbent, the challenge for the PD is to counter or match the tough anti-immigrant rhetoric of the parties on the right.
The outcome of the election is unpredictable. But it is certain that politics in Italy, as in much of the EU, is being reshaped by migration.