Italy's vote: Fake claims attempt to influence election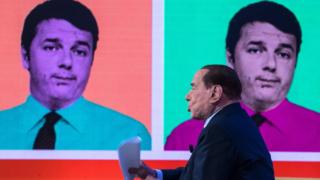 Italians go to the polls on Sunday to elect a new parliament.
It is an election in which the former Prime Minister, Silvio Berlusconi, could again play a key role.
His centre-right coalition seems likely to emerge as the largest bloc, opinion polls suggest, while the Five Star Movement is expected to become the biggest single party.
Immigration and populism have dominated the debate, especially on social media, while experts say the outcome could have an impact on the economy.
Politicians and campaigners have been using social media to communicate with voters.
But many of them are worried about disinformation campaigns, like those evident in recent elections in Europe and the US.
In the run-up to the election, some fake stories - widely shared in the press and on social media - caused a furore among Italians.
In November 2017, several news organisations reported that a nine-year-old Muslim girl was hospitalised after being assaulted by her 35-year-old "husband" in the north-eastern city of Padua.
The story was shared on social media by Matteo Salvini, the leader of the anti-immigration party Lega and his members.
Many were outraged that this could happen in modern Italy.
The Carabinieri, the national gendarmerie, denied the incident happened, and news organisations removed the story and apologised for their mistake.
Mr Salvini also removed the story from his social media accounts.
Fake polls
In February 2018 a number of Five Star Movement supporters shared a fabricated poll stating that their party was on track to receive over 48% of votes.
The poll, which was wrongly attributed to the BBC, Der Spiegel and Daily Star Lebanon, was first shared in March 2017 by activist accounts claiming to be linked to the party.
The results of the poll are at odds with most reliable opinion polls, which suggest the party is likely to receive closer to 28% of votes.
High-profile journalist Enrico Mentana took to Facebook to denounce the false poll, which he called "annoying and counterproductive".
A number of Italian news outlets have also pointed out that the poll includes the incorrect names for some parties and is littered with grammatical mistakes.
A government minister, Maria Elena Boschi, and her colleagues attended a funeral of a Nigerian immigrant who was killed in a racist attack in July 2016.
Later, in November 2017, a photograph of Ms Boschi at the funeral resurfaced on social media, alongside the claim that she and her colleagues were at the funeral of Toto Riina, the notorious "boss of all bosses" of the Sicilian Mafia.
The manipulated picture included a caption: "Look who was there to say one last goodbye to Toto Riina?"
The photograph certainly showed they went to a funeral but it was not Toto Riina's.
In her Facebook post, Ms Boschi described the meme as an "abomination".
She implied that some Five Star Movement supporters had distributed the fake image.
"I believe we have to say stop to fake news, to hatred, to lies," she said.
"This goes too far. They even use the head of the Mafia against us. It's time to say enough, enough, enough."
There is no evidence to suggest that the account that originally posted the doctored image was indeed linked with Five Star.
Since her election as president of Italy's lower house of parliament, Laura Boldrini has become a target of misogynistic insults and bogus news stories.
Fictitious scandals involving her relatives have also been shared on social media.
In July 2016, a fake news outlet claimed on Facebook that her sister managed 340 apartments for migrants.
However, many people pointed out that the woman featured in the post was TV actress Krysten Ritter and not Ms Boldrini's sister.
Fighting back
Many politicians and officials are worried that fake news could cause further damage in a tense political climate.
The former Prime Minister, Matteo Renzi, said the future of Italian democracy depended on the help of social media sites, in an interview to the New York Times.
Other politicians have not been content to wait for social network sites to sort out the problem.
In October 2017 Ms Boldrini, along with a group of politicians, set up a project to teach school students how to spot bogus stories online.
In January this year the Italian government launched an online portal where citizens could report fake content, causing outrage among journalists and fact-checkers.
And before the election, Facebook launched a partnership with Pagella Politica, an independent fact-checking organisation, to track fake stories and images.
It remains to be seen, however, if these attempts will work - and what impact, if any, fake news will have on voters.