Slovakia grapples with murdered journalist's last story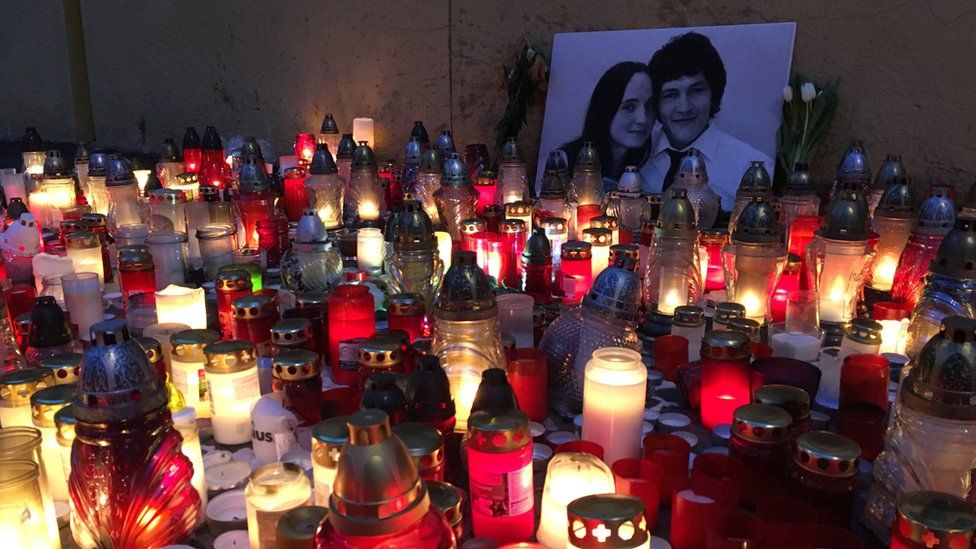 The headline reads: "Italian Mafia In Slovakia; Its Tentacles Reach As Far As Politics".
It sits at the top of Jan Kuciak's final, unfinished article, published at midnight not just on his own news site - aktuality.sk - but, symbolically, by a number of others.
The young investigative reporter and his fiancée Martina Kusnirova were found shot dead in their home on Sunday; the first killing of a journalist in Slovakia's history.
The attack, which police say bears all the hallmarks of a contract killing, has left the country reeling.
Kuciak's last article - published posthumously - alleges links between the Italian mafia and figures close to the Prime Minister, Robert Fico.
His byline is accompanied by a small colour photograph of the author. A larger, black-and-white version of the same image - this one propped up against a wall, surrounded by candles and flowers - tops the page.
Kuciak alleges that Italian businessmen with ties to the feared Calabrian organised crime syndicate the 'Ndrangheta have settled in eastern Slovakia, and have spent years embezzling EU funds for this relatively poor region on the border with Ukraine.
These men, he alleges, have cultivated business links with senior officials, including people close to the prime minister. One, a former glamour model named Maria Troskova, was until Wednesday the prime minister's "chief state adviser". Another, Ms Troskova's former boss Viliam Jasan, was secretary of Slovakia's national security council.
The two said in a joint statement that they would step down from their roles in government with immediate effect until the case had been investigated. They said attempts "by some politicians and the media to link our names to these repellent crimes" were unacceptable. They were stepping down so their names could not be used in a political battle against Mr Fico, they added.
The Minister of Culture Marek Madaric, a member of Mr Fico's SMER party, has also resigned, saying he felt it was his only choice as a minister in the wake of the killings.
At the time of writing, Mr Fico's office had not responded to the BBC's request for comment. But at Tuesday's surreal press conference, speaking by a table laden with a million euros in cash - the government's reward for information on the murders - Mr Fico was adamant.
"Do not link innocent people without any evidence to a double homicide," Mr Fico told journalists.
"It's crossing the line. It's no longer funny," he went on, castigating the opposition and the media for using the tragedy to further their own ends.
For Monika Todova, an investigative journalist for the rival Dennik N newspaper and a friend of Jan Kuciak, the last three days have been a blur. She's brisk, unemotional and businesslike, but there are dark rings under her eyes.
"These claims [of mafia involvement] might sound like science fiction," she told me at Dennik N's editorial offices.
"But it was already like living in a dream to wake up on Monday morning and hear that Jan was dead, that someone had murdered him in his home. I couldn't believe it. We were so absolutely shocked by it."
Todova explained that despite working for rival outlets, she and Kuciak would often exchange contacts and information, and were covering similar ground.
Her editor-in-chief Matus Kostolny agrees with the prime minister that a line has been crossed. But he says it is now the duty of the government, the police and the judiciary to ensure the country steps back across it.
"It's the last chance to persuade people that Slovakia is not a country where a journalist can be killed because of his work and nothing can happen," Kostolny told the BBC.
"Where politicians can be part of corruption scandals, and nothing happens, they stay in government," he went on.
"I think it's the last chance to persuade people we are not a mafia state."
At an impromptu memorial to the murdered reporter and his fiancée by the wall of a local church, passers-by stopped, some kneeling at the small sea of red candles, despite the biting cold. One man stood there for 20 minutes, his lips moving in silent prayer.
Prime Minister Fico and his government - buffeted by scandal over links to a property developer charged with tax and VAT fraud - have endured street protests before.
But politicians are bracing for a new wave of demonstrations that could be much larger. Their greatest ally, perhaps, is the weather; the daytime high for Friday, when students plan to rally in the capital, is -4 C.
But there is a sense of unreality in this small EU and Nato country. Hours after news broke of the killings, fire engulfed the roof of a building in Kosice, eastern Slovakia, that houses the regional tax authority. It took firemen 24 hours to completely extinguish the blaze.
Officials assured the public the fire was an accident. The tax office, they said, was located on a lower floor; no documents were lost, no records of EU subsidies went up in flames.
But these are strange days in Slovakia. Two young people are dead, and not everyone believes in coincidences.