Matteo Salvini: Northern League leader berated by mother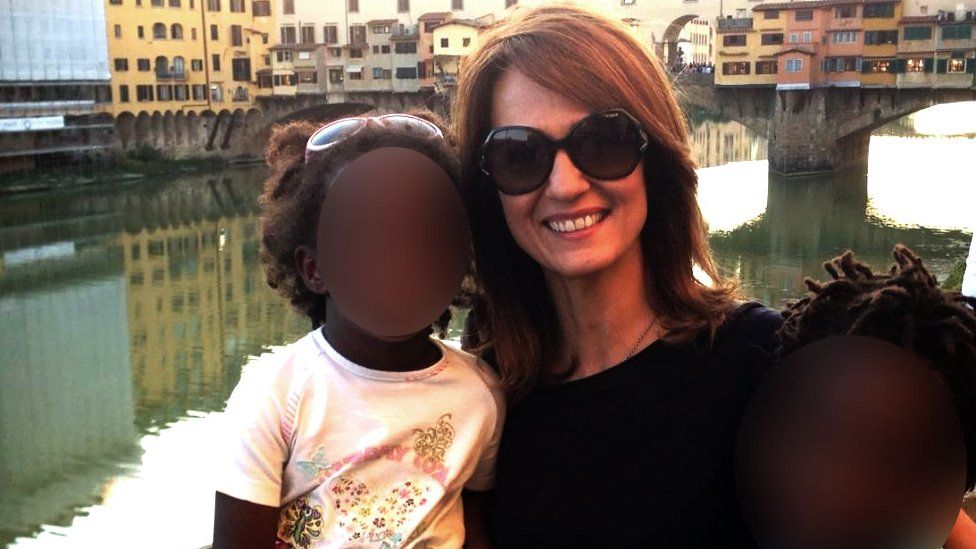 An Italian mother has posted an open letter on Facebook attacking a far-right leader.
Gabriella Nobile said her adopted children were facing "moments of terror" thanks to Matteo Salvini's anti-immigrant rhetoric.
His populist Northern League, rebranded as League (Lega), is expected to do well in this Sunday's general election.
Mr Salvini responded to the post by defending his policies and offering to have coffee with Ms Nobile.
What did the Facebook post say?
The letter, addressed to Mr Salvini, "thanks" him for scaring her two adopted children.
The 49-year-old entrepreneur says that her daughter asked: "If he wins, will I be sent back to Africa?"
She adds that her son has faced racist abuse on the bus while travelling to football practice.
Speaking to the BBC on Thursday, Ms Nobile said her son was told "If Salvini wins, you will go home," and was called a racial slur.
Ms Nobile's son, originally from Congo, was adopted at the age of two, while her daughter, originally from Ethiopia, was adopted at the age of one.
"My children are black," Ms Nobile said. "They cannot go outside with a tattoo - 'I am Italian, I have all my documents.'"
While she told the BBC that immigration was "a huge problem that must be solved in some way", she attacked Mr Salvini for acting "like all the problems we have in Italy are from immigration", saying his focus had led to a rise in racist abuse.
The post quickly went viral, garnering tens of thousands of likes, comments and shares.
Facebook however reportedly removed the initial post, claiming Ms Nobile was "inciting racial hatred" by using a slur in her letter when describing the abuse her son has suffered.
Ms Nobile reposted the letter without the slur, but while Facebook allowed it to remain online, the company blocked her from her account.
On Tuesday, Mr Salvini responded to Ms Nobile with his own Facebook post.
Mr Salvini said it was wrong for the children to fear him, and even said he would push the government to make adoptions faster and cheaper.
"I will remove from Italy criminals, illegal immigrants and drug dealers, but certainly not children!"
At the end of the post, the Northern League leader offered to go for coffee with Ms Nobile.
"Since we both live in Milan, I would be happy to offer you a coffee at the park, while our children play together."
Originally founded in 1991 to fight for greater regional autonomy in northern Italy, the Northern League has morphed under Matteo Salvini into a populist, Eurosceptic party opposed to immigration.
Lega, as it is now known, has formed links with other far-right European parties including France's National Front and the Freedom Party of Austria.
The League could end up in coalition with Silvio Berlusconi's right-wing Forza Italia party, which is vying against the populist Five Star Movement and the ruling centre-left Democratic Party. Five Star has vowed never to enter into a coalition.
Voters go to the polls on Sunday, 4 March.