Leo Varadkar under fire over 'spin factory'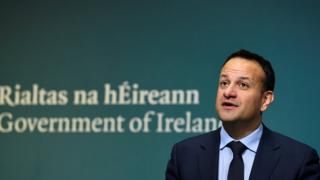 Taoiseach (Irish prime minister) Leo Varadkar has had a busy week.
Appearing daily on television giving people updates and advice on the snowy weather conditions in between finding time to comment on the latest developments on Brexit.
But when the Dáil (Irish parliament) returns this week the opposition parties are likely to continue their attacks on what they regard as his "vanity project" - the Strategic Communications Unit.
It was set up after Mr Varadkar became taoiseach to coordinate government communications internally and then with the public.
It has been widely criticised, with many accusing of being his and the government's spin factory with one opposition politician likening the unit to the propaganda operation of the Nazi leader, Josef Goebbels.
The criticism has come to a head over publications linked to the government's national plan called Project Ireland 2040.
A number of articles in recent weeks have appeared in financially hard-pressed local newspapers.
The advertorial stories were paid for by the Strategic Communications Unit but presented as independent news stories featuring some government ministers, mainly Fine Gael members, and other politicians.
The vocalist from the rock group Aslan, Christy Dignam, is among those who have said that they did not realise that interviews they gave were to be used to highlight element of Project Ireland 2040.
Micheál Martin, the leader of the main opposition Fianna Fáil, was among those who raised the matter in the Dáil last week.
But Leo Varadkar responded by showing newspaper articles highlighting Fianna Fáil ministers and politicians from the period when they were in government and had their own national plans.
'Has become a distraction'
He has, nevertheless, announced a general review of the unit's operation and on RTÉ radio's Morning Ireland raised the possibility of its disbandment saying it had "become a distraction from the work of government".
He said the majority of advertorials in 160 regional papers did not feature any politicians; four featured non-office holders and only one of them was a selected Fine Gael candidate.
"If there was a conspiracy here to promote Fine Gael, it wasn't a good one," he added.
But the opposition parties disagree, and it is possible they could unite this week in a Dáil vote calling for the scrapping of the unit.