Russian spy: Skripal case highlights UK's Russia dilemma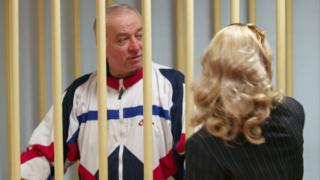 The mystery illness that has afflicted former Russian agent Sergei Skripal and his daughter has prompted UK Foreign Secretary Boris Johnson to note that the case has "echoes" of the assassination of Alexander Litvinenko who was poisoned with radioactive material in London in 2006.
A British public inquiry concluded in 2016 that Russian agents had murdered Litvinenko and that Russian President Vladimir Putin himself "probably approved" the operation.
Of course, we do not know yet the reason for the Skripals' mystery symptoms. The Russian Embassy in London has denied that their country has had any role.
Mr Johnson has insisted that Britain will respond "robustly" if evidence of state involvement emerges, describing Russia as "in many respects a malign and disruptive force".
If Russian involvement is found, the foreign secretary appeared to raise a question mark over England's participation in the World Cup, which will be held in Russia this summer. Though subsequently, British officials were at pains to stress he was referring to official representation rather than a boycott by the football team itself.
But his remarks highlight the dilemma facing the UK government in dealing with Moscow. It has few diplomatic levers to pull.
Relations are already frosty - a hang-over from the Litvinenko affair, compounded by serious differences over Russian policies in Ukraine and Syria, let alone Russia's more aggressive noises towards Nato countries in central and northern Europe.
It is hard to see what further steps might be taken to encourage a shift in policy in the Kremlin and certainly not by the United Kingdom alone.
Since the Litvinenko affair, British policy towards Russia has swung back and forth.
Relations went into the freezer in the wake of the assassination, with diplomats expelled and intelligence co-operation halted.
Distracted by Brexit?
David Cameron's government introduced a partial thaw driven by a desire to maximise trade opportunities - perhaps a forerunner of the sorts of concerns that may loom much larger once the UK leaves the European Union.
The Ukraine crisis though proved a major set-back with Britain at the forefront of calls for tough economic sanctions against Moscow.
The outcome of the public inquiry into the Litvinenko affair only confirmed the government's suspicions of a direct official role in the killing.
Progress towards a nuclear deal with Iran, in which Russia played a key role, helped to soften some criticism of the Kremlin, but Moscow's growing military role in Syria and its indiscriminate bombing campaign there worsened tensions again.
Now Russia and the United States seem to be engaged in a mini-nuclear arms race again; tensions between Nato and Russia are growing; and the UK is in any case distracted by its plans to withdraw from the EU.
Should this latest case raise credible suspicions of a Russian official role, London may struggle to find an effective response.
Relations are already bad and everything that was done in response to the Litvinenko affair may have failed to fundamentally alter Russian behaviour.