German far-right terror group members jailed for attacks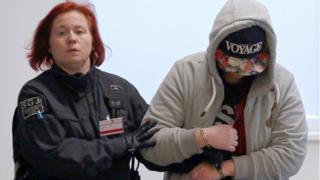 A German court has jailed eight members of the far-right group called Freital, for a number of crimes including attempted murder and terror offences.
Prosecutors said the group's members attempted to create a "climate of fear" with a series of attacks on political opponents and refugees in 2015.
The group modified pyrotechnics purchased in neighbouring Czech Republic to use in explosives attacks.
A prosecutor said it was lucky that they had not killed anyone.
The group Freital is named after the members' hometown, which gained notoriety over a series of anti-immigration protests at the height of the European migrant crisis.
The trial lasted a year, and was held in a temporary courtroom complex on the outskirts of the eastern city of Dresden under tight security.
The group were found guilty of two attacks on refugee homes, two on far-left political offices and one on a residential complex.
A Syrian refugee suffered "multiple cuts" to his face after explosives were thrown into a refugee housing centre on the night of 31 October, the court was told.
A federal prosecutor said the incidents constituted attempted murder, and said it was good fortune that no one died in the attacks.
Seven men and one woman were sentenced to terms of between four and 10 years.
---
A violent backlash
Analysis by Jenny Hill, BBC Berlin Correspondent
The backlash, when it came, had a violent edge. After the exuberant welcome to refugees in the autumn of 2014, Germany was shocked by a wave of attacks on refugee homes, angry protests and open xenophobia. Largely focused in the former communist east where disenchantment spilled over into fury at the government which, so the argument goes, opened its arms to refugees but left its own behind.
Pegida marched through the streets of Dresden, a mob cheered as a home for migrants burned in the town of Bautzen. And, not far away, in Freital a far right terror cell planned their campaign, targeting migrants and left wing political figures.
Today's verdict forces Germany to, once again, examine uncomfortable truths. The migrant crisis destroyed old taboos; what was considered unspeakable just a few years ago is now openly discussed (even in the Bundestag where the far right Alternative for Germany (AfD) is now the largest opposition party). Few, of course, condone this level of violence but a small - growing - number of Germans now support the sentiment behind it.
And, in a country which prides itself on learning the lessons of the past, that is, for the majority, a source of concern and national shame.
---
In his closing statements, Senior Prosecutor Jörn Hausschild said he was convinced the group's crimes were based on xenophobic, right-wing extremist and Nazi ideology.
Freital's leaders, Timo Schulz and Patrick Festing, were sentenced to 10 and nine-and-a-half years prison respectively for their role in leading the group.
A defence lawyer for Festing claimed the incidents were "spontaneous acts", and argued the group was neither a criminal or terrorist organisation.
Schulz had previously been given a one-year suspended sentence for a baseball bat attack on the car of pro-refugee activists.
Germany has seen a rise in anti-Islam, far-right activity in recent years coinciding with the country's acceptance of more than one million migrants and refugees since 2014.
The Alternative for Germany (AfD) far-right political party won its first parliamentary seats in last year's election - becoming the third largest party with 12.6% of the vote.