Kim Wall: Submariner Peter Madsen says toxic fumes killed journalist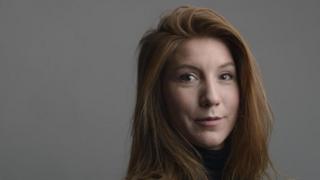 Danish inventor Peter Madsen has denied murdering Swedish journalist Kim Wall on his homemade submarine, saying she died in an accident.
At his trial in Copenhagen, Mr Madsen said the 30-year-old died of carbon monoxide poisoning when the vessel filled with toxic exhaust fumes.
But he has admitted dismembering Ms Wall's body and disposing of it at sea.
When asked why he did so, he told the court: "I don't see how that mattered at that time, as she was dead."
Ms Wall's remains were found by a passing cyclist, 11 days after she interviewed the inventor last August.
Mr Madsen is charged with murder, dismemberment and aggravated sexual assault.
He faces a life sentence if convicted, which typically means 15 to 17 years in prison without parole.
Around 40 witnesses are set to give evidence, as prosecutors attempt to shed light on the circumstances of Ms Wall's death.
What do we know about what happened?
Kim Wall, a freelance journalist, boarded Peter Madsen's UC3 Nautilus on the evening of 10 August 2017 to interview him for a story.
She had left her boyfriend at a going-away party the couple were having ahead of a planned move to Beijing. When she did not return, her boyfriend alerted the police.
Peter Madsen was rescued the next morning as his vessel was sinking. He initially told police that he had dropped off the reporter before the vessel began to go down.
But he later said she died when a heavy hatch on the submarine fell on her head.
Eleven days later, a cyclist found the remains of the journalist's headless torso on a nearby beach. Weeks later, police divers discovered other parts of her body in plastic bags weighed down with metal.
The 47-year-old Dane - the skipper and designer of the Nautilus, a 17m- (56ft) long privately-owned submarine - changed his version of events several times.
After saying a hatch fell on her head, he maintained instead that she had been killed by carbon monoxide poisoning inside the submarine while he was up on deck.
He initially denied cutting up her body, but then admitted dismembering it and dumping the body parts in the sea.
What was said in court?
Peter Madsen appeared calm on Thursday, wearing a black T-shirt, jeans and black glasses. Members of the Wall family were also in the session.
His lawyer Betina Hald Engmark told the court he denied murder but admitted "violating the law about indecent handling of a corpse".
Explaining his version of events, Mr Madsen said the air pressure on board his submarine suddenly dropped while he was standing on the deck and Ms Wall was in the engine room.
He said the vessel began to fill with exhaust fumes but he was unable to open the hatch and enter.
"When I finally manage to open the hatch, a warm cloud hits my face. I find her lifeless on the floor, and I squat next to her and try to wake her up, slapping her cheeks," he said.
Asked why he had changed his story several times, Mr Madsen said that he had "wanted to spare her family" the "gruesome details."
Unclear answers
Maddy Savage, BBC News, Copenhagen
This is a high-profile trial being covered by more than 100 journalists from around the world, with some queuing for hours in the snow to secure a good view from the court or the press room, where reporters are asked to remain silent and banned from making phone calls.
During breaks, Danish journalists here have told me Peter Madsen's black T-shirt and jeans combination isn't unusual attire in courtrooms in Denmark, where casual business dress is common.
What fluent Danish speakers here say is significant is that while he is able to speak at length about his own actions and his passion for all things nautical, his answers about what specifically happened to Kim Wall on the night she died have been shorter and less clear.
He has continued to deny killing the Swedish journalist, repeatedly describing her death as "terrible".
During the session, the prosecution said:
It was not clear how Kim Wall died but there was the suspicion that Mr Madsen had "psychopathic tendencies"
Pipes and straps discovered in the same bag as the journalist's clothes matched similar items found in his workshop
Blood on his nose was the journalist's but there was no evidence of his sperm on her body
Films found on his computer showed real women being tortured and mutilated
The trial is expected to last 12 days over seven weeks, with a verdict expected on 25 April.
Who was Kim Wall?
The journalist was born in 1987 and grew up in a close-knit community in the small town of Trelleborg in southern Sweden, just across the strait dividing Denmark from Sweden.
She studied international relations at London School of Economics and went on to gain a place on the rigorous masters programme of Columbia University's School of Journalism - described as the "Oxbridge of journalism".
She had a long career in journalism, having previously reported from North Korea, the South Pacific, Uganda and Haiti, writing for the New York Times, Guardian, Vice and the South China Morning Post.