Slovakia journalist murder: Thousands march against corruption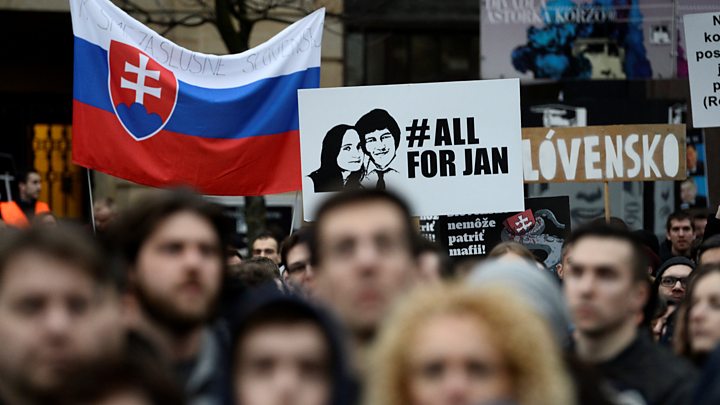 Tens of thousands of Slovaks joined an anti-government protest in the capital Bratislava on Friday.
Estimates put the crowd's size at more than 40,000 people, in what is thought to be the largest demonstration in the country since the fall of Communism.
The mass action was prompted by the murder of journalist Jan Kuciak and his fiancée Martina Kusnirova.
Kuciak, 27, had been investigating alleged political corruption linked to Italian organised crime.
His final unfinished story was published after his death in late February, stoking public anger against a government widely seen as failing to tackle corruption.
Many protesters carried placards calling for the government of Prime Minister Robert Fico to step down.
"A decent Slovakia is what I want. [A country] where the government works for the people, not for its own well-being," one student at the rally in the capital told AFP news agency.
Others carried bundles of keys they shook to create a jangle noise - a throwback to the mass protests against communism in 1989, known as the velvet revolution.
Mr Kuciak's murder - the first targeted killing of a journalist in the country's history - has already prompted a wave of smaller protest marches and vigils.
The unrest spilled into the political sphere this week, when President Andrej Kiska called for a radical government reshuffle or new elections to help rebuild public trust.
A number of people mentioned in Mr Kuciak's last, unfinished article were detained by police in the aftermath of his death, but all were later released.
No one has yet been charged.