Ireland sceptical of 'smart border' solution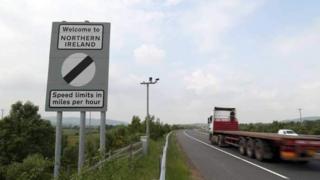 The Irish government has said ideas in a report about "smart borders" would not be enough to prevent a hard border after Brexit.
The UK government has guaranteed there will be no hard border but it is not yet clear how that can be achieved.
In recent weeks Brexit supporters have seized on a report by a customs expert which was prepared for the European Parliament.
It describes a 'low friction' solution for the border which involves a combination of technology and international best practice.
The author, Lars Karlsson, is a former Director of Swedish Customs.
His report, Smart Border 2.0, is based on an enhanced version of the Sweden/Norway border arrangements.
The UK government has said the country will leave the customs union and single market.
That will necessitate some form of new customs controls between the UK and the EU.
Mr Karlsson says that if the Irish border is handled in the same way as other external EU borders it will have "a severe impact."
That is due to the the volume of goods crossing the border and the lack of infrastructure for border formalities.
The report contains some familiar ideas including the use of trusted trader schemes, number plate recognition cameras, customs clearance away from the border, and data sharing between Irish and UK authorities.
Other elements include the use of mobile phone networks to track vehicles, and the use of unique consignment reference numbers to track consignments through a supply chain.
Some elements of his plan, including the use of cameras at unmanned crossing points, are contrary to the what the UK and Irish government have said should happen at the border.
In a letter to The Times newspaper Ireland's ambassador to the UK Adrian O'Neill, said proposals in the report "rely on both physical infrastructure and staffed border posts."
He added that "this would not meet the commitment made in the December agreement."