Anti-abortion march ahead of Irish referendum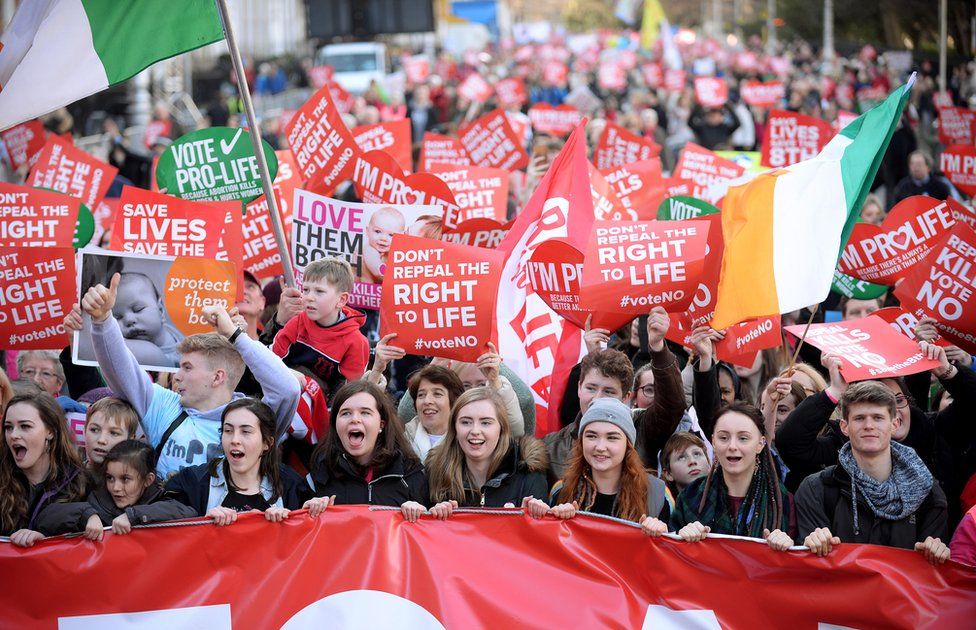 An anti-abortion rally, in favour of retaining the eighth amendment of the Irish constitution, has taken place ahead of a referendum later this year.
The eighth amendment, which grants equal right to life to the unborn and pregnant women in the Republic of Ireland, was introduced in 1983.
Dublin's All Ireland Rally for Life was staged by the Save The Eighth campaign.
The Irish broadcaster, RTÉ, has reported that "tens of thousands" attended the rally, which started at 14:00 local time in Parnell Square in the city.
A number of different religious groups were represented at the march as well as Irish politicians.
Campaigners focused on the rights of people with disabilities, claiming that 90% of pregnancies diagnosed with Down's Syndrome in Great Britain end in abortion.
One of the speakers was a Down's Syndrome activist who has spoken about the issue at the United Nations.
Spokesperson Niamh Ní Bhriain said the aim was to say no to abortion in Ireland ahead of the upcoming referendum.
She said the law proposed by the Irish government would be more liberal than abortion legislation in Great Britain.
Currently, terminations are only allowed in the Republic of Ireland when the life of the mother is at risk, including the risk of suicide.
The maximum penalty for accessing an illegal abortion is 14 years in prison.
Repeal campaigners are now seeking to liberalise the law to allow for unrestricted abortion up to 12 weeks into pregnancy.
Abortion in the Republic of Ireland
The Republic of Ireland has a near total ban on abortion.
The law does not allow for terminations in cases of rape or incest, or when there is a foetal abnormality.
The Eighth Amendment to the Irish constitution, introduced in 1983, acknowledges "the right to life of the unborn, with due regard to the equal right to life of the mother".
In 1992, a 14-year-old rape victim was initially prevented from travelling to England to terminate her pregnancy, in a controversy that became known as the X Case.
That ruling was overturned by the Irish Supreme Court and a referendum approved a further update to the constitution, stating that the eighth amendment did not restrict the freedom to travel to another state.
In 2013, abortion legislation was again amended to allow terminations under certain conditions - when doctors deem that a woman is at risk of taking her life, or that her life is at risk due to medical complications.
The repeal group, Together for Yes, told RTÉ it wanted to highlight that an average of nine women travel from Ireland to Great Britain for an abortion every day.
Dr Siobhan Donohue said disability was not an issue in the calls for abortion rights, as tests to detect disability are carried out later in a pregnancy than the proposed 12-week limit.