Leo Varadkar announces Choctaw scholarship scheme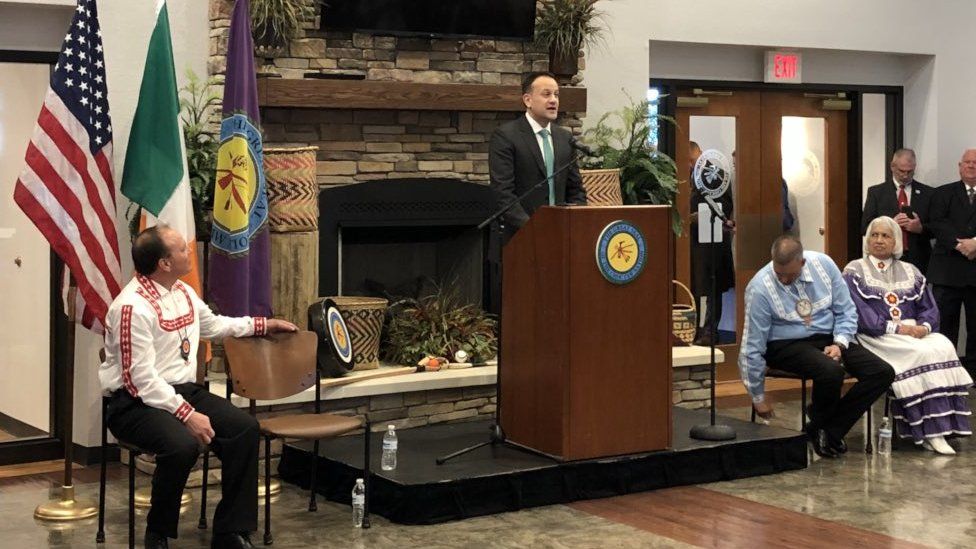 The taoiseach (Irish Prime Minister) Leo Varadkar has announced a new scholarship for Choctaw people to study in Ireland.
He was speaking on his first visit to the Native American community in Oklahoma.
Mr Varadkar thanked the Choctaw nation for the generosity their ancestors showed to Ireland during the Great Famine.
In 1847, they sent money for famine relief despite their own poverty.
"A few years ago, on a visit to Ireland, a representative of the Choctaw Nation called your support for us 'a sacred memory'," he said.
"It is that and more. It is a sacred bond, which has joined our peoples together for all time."
Mr Varadkar told them: "Your act of kindness has never been, and never will be, forgotten in Ireland."
He said the new scholarship scheme would begin next year.
"This is an opportunity for us to learn from you and from your culture, and you from ours, in a sharing of knowledge that will enrich both our peoples," he said.
At the height of Ireland's Great Famine, Choctaws in southern states of the USA sent a donation of $170 (£111).
The gift would be worth tens of thousands of dollars in modern terms.
The sculpture Kindred Spirits stands in a park in the small town of Midleton, in east Cork.
A million people died in Ireland and another two million left the country when the potato crop failed for successive years, removing a vegetable that poor people ate every day.