French baker disputes fine for opening every day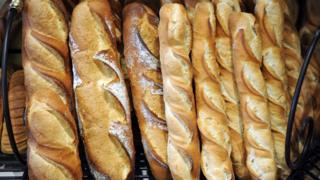 A French baker has been fined €3,000 (£2,650) for opening his business seven days a week, breaking labour rules.
Cédric Vaivre, who runs the only bakery in Lusigny-sur-Barse in north-east France, was open every day during the summer of 2017 to serve tourists.
A local decree in place for over a decade bans bakeries from opening seven days a week.
Mr Vaivre is reportedly refusing to pay the fine and his community, including the local mayor, is supporting him.
"There is nothing worse than closed shops when there are tourists," said Christian Branle, Lusigny-sur-Barse's mayor. He is hoping to meet with the official from the French department of Aube who imposed the fine.
A petition in support of the 41-year-old baker has attracted more than 2,000 signatures.
Mr Vaivre told local media he only wants his bakery La Boulangerie du Lac to be open seven days during the summer months to deal with the demands of tourists.
"I only did my job," he said in December after labour inspectors were alerted to his case.
The town of 2,000 people experiences an influx of tourists visiting the lakes at a nearby protected regional park during the summer.
In 2017, over 120 local businesses were asked by the employers' bakers union in Aube whether they wanted to maintain the decree Mr Vaivre broke. The majority reportedly said they wanted to maintain the rule that mandates them to have a day of rest.