Horst Seehofer: Islam does not belong to Germany, says new minister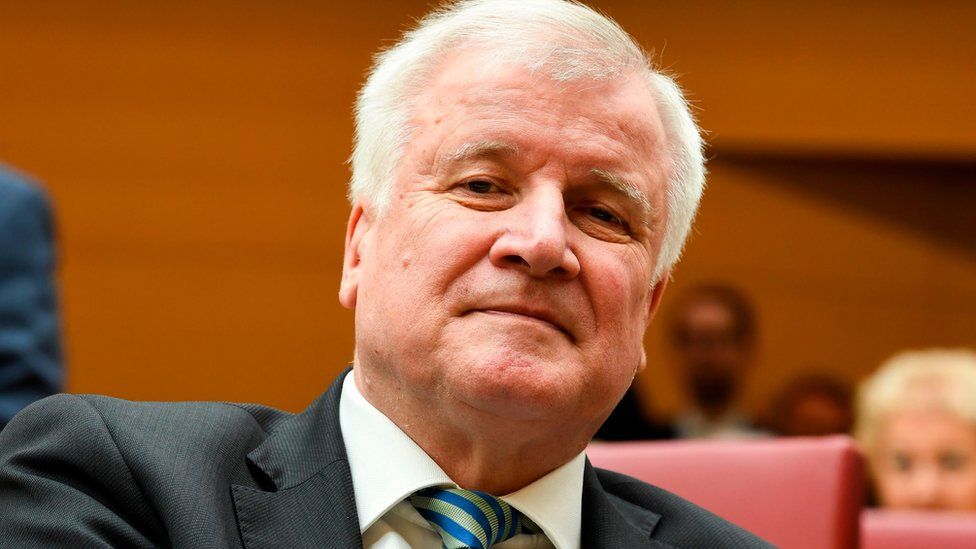 Germany's new interior minister has said he believes "Islam does not belong" to the country, in direct contrast with Chancellor Angela Merkel.
Horst Seehofer has long been a vocal critic of Mrs Merkel's refugee policies but has now taken up a key role at the heart of her new coalition.
His comments are seen as an effort to win back voters from the far-right Alternative for Germany (AfD) party.
The chancellor was quick to distance herself from the remarks.
In his interview with the mass-circulation Bild newspaper, Mr Seehofer said Germany had been "shaped by Christianity", and that the country should not give up its own traditions.
"No. Islam does not belong to Germany. Germany is shaped by Christianity," he said.
"The Muslims who live among us naturally belong to Germany... That of course does not mean that we should, out of a false consideration for others, give up our traditions and customs.
"Muslims need to live with us, not next to us or against us."
Mr Seehofer, who heads Mrs Merkel's Bavarian sister party the CSU, also vowed to increase deportations of rejected asylum-seekers.
On Friday she emphasised the need for coexistence between religions.
"Our country is heavily influenced by Christianity - and a Jewish influence - but in the meantime four million Muslims are living in Germany and they also practise their religion here and these Muslims also belong to Germany and so their religion, Islam, also belongs to Germany," she said.
Analysis by Jenny Hill, BBC Berlin correspondent
Horst Seehofer has fashioned himself for a unique role in German politics - that of thorn in Angela Merkel's side. As leader of the CSU he was a frequent and vociferous critic of the chancellor, particularly over her asylum policy.
He may now be in her cabinet - a controversial appointment made in return for CSU support for the hard-won coalition with the SPD - but Mr Seehofer is still up for a fight, directly opposing the chancellor, who has publicly stated that Islam does belong to Germany.
This is, in part, about chasing the far-right AfD. Mr Seehofer has an eye on his beloved Bavaria - there are regional elections there later this year and the AfD has made gains in the state. But his comments, which come just days after several attacks on Muslim institutions, have outraged many and represent a bad start for Mrs Merkel's new government.
Mr Seehofer has highlighted divisions within her coalition and he risks playing right into the hands of the AfD, the largest opposition party, who would like nothing better than to establish immigration as the central theme of this parliament.
More than one million migrants arrived in Germany after Mrs Merkel opened the doors to Syrian asylum seekers in 2015.
The backlash sparked by her policy helped fuel the country's far right in last year's election - the AfD entered the federal parliament for the first time - and led to the worst electoral performance in almost 70 years for her CDU party.