Dublin hotel fire investigation to begin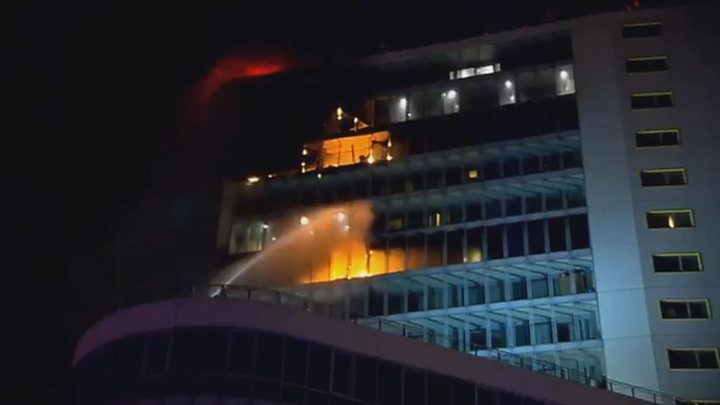 An investigation into a major fire at a Dublin hotel, which destroyed at least five floors, will begin as soon as the high-rise building is declared safe.
Up to 200 people were in the Metro Hotel in Ballymun when the fire started at about 20:00 local time on Wednesday.
Dublin's chief fire officer said he was relieved that there were no injuries.
Patrick Fleming said he believed the fire began on the 13th floor and spread to the 10th. He added the intervening floors, 11 and 12, did not catch fire.
However, he said the building has sustained considerable smoke and water damage and will not be habitable for some time.
'Not a Grenfell-type fire'
Speaking to Irish broadcaster RTÉ, Mr Fleming said about 60 firefighters and several appliances were involved in the operation to extinguish the blaze.
He said it was the biggest fire Dublin Fire Brigade had dealt with so far this year.
Mr Fleming said there was no reason to believe the fire was suspicious at this stage, but the cause will be investigated by fire officers and Gardaí (Irish police).
The chief fire officer said he wanted to reassure people living in apartment blocks that this "was not a Grenfell-type fire" - referring to the tower block disaster in London last year.
He said the evacuation was very successful, but urged apartment block residents to make themselves aware of evacuation procedures in their own buildings.
About 150 guests staying in the hotel at the time have all been accounted for, as have those living in the building.
Eyewitness
The hotel was used as temporary, homeless accommodation in recent years, but there are no families living there currently.
The hotel guests have been relocated to the nearby Carlton Hotel.
One witness told RTÉ News that the fire broke out in a room on the 13th floor, which was next door to his own room.
He said he looked out on the balcony and saw flames in the room, and then went to tell reception and the fire service.