Israeli man fined for urinating on memorial at Auschwitz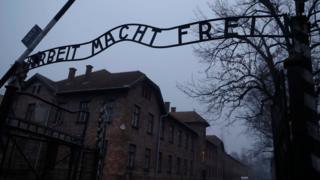 An Israeli man has been fined after he was caught urinating on a monument for the victims of the former Nazi death camp of Auschwitz.
The 19-year-old, who has not been identified, was questioned by Polish police for several hours and released.
He reportedly apologised and accepted a $1,500 (£1,060) fine.
Polish law says those who desecrate a monument or a public place devoted to a historical event or a person can be punished with a fine or imprisonment.
The man urinated on a monument located between the ruins of the two largest crematoria in the former death camp in Nazi-occupied Poland.
A museum guide noticed it and called the police. No details have been released.
It is estimated that 1.1 million people, most of them European Jews, were murdered at Auschwitz before it was liberated by Soviet forces in 1945.
Earlier this year, 12 people who stripped naked in front of the former camp were convicted of profaning the site.