Russia Kemerovo fire: How party turned into nightmare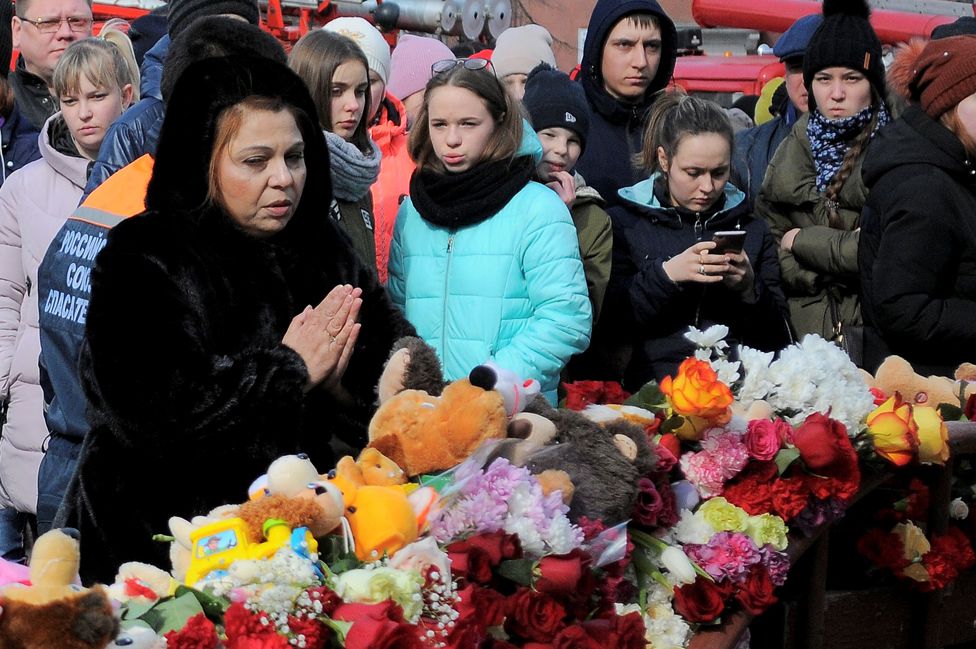 The Siberian city of Kemerovo is in shock after fire ravaged a shopping and entertainment complex, killing at least 64 people.
Survivors and mourners spoke to BBC Russian reporters Sergei Goryashko and Elizaveta Fokht.
Eight-year-old Darina was having fun at a children's birthday party in the Winter Cherry leisure complex when the deadly fire broke out.
"We were sitting down, then I saw the fire, and they said we had to leave," the shy girl recalled, explaining that the blaze started in the trampoline room on the fourth floor. Two boys jumped from there to escape, she said.
Her mother Irina often took her to the popular leisure complex. On Sunday she left Darina at the party on the fourth floor while she went down to the second to do some shopping.
It was common for parents to do that - while the children played on the trampolines or watched a film in the cinema the parents met at a cafe downstairs, or went bowling.
But Sunday was the start of a public holiday and many children were playing upstairs at the critical moment without adults standing by to help.
Irina said that on the second floor people began shouting "fire!". "I tried to go back up, but my path was blocked, there was a lot of people."
The parents of the birthday girl managed to rescue her and her friends. Darina was reunited with her mother on the first floor. Darina was fretting after leaving her friend Sonya. Luckily Sonya survived too.
Another frequent visitor to the complex was Yelena - she was there on Sunday with her 10-year-old son Yegor.
They were among the first to flee the blaze. Yelena said she heard shouting but no fire alarm.
Many other survivors also complained that no alarm had gone off.
One of Yelena's work colleagues lost his wife and children in the disaster.
According to Russia's Investigative Committee, a fire safety technician had switched off the alarm.
Long after the fire engulfed the complex, firefighters were still dousing flames, while locals left flowers, cuddly toys, candles and balloons at a makeshift memorial nearby.
Hundreds of mourners remain at the scene, but the place is eerily silent.
The street running alongside the complex is cordoned off. Much of the building's facade appears unscathed, yet there is a sharp smell of burning.
Many children came to lay flowers with their parents.
Some lost friends in the cinema when it caught fire. "All the doors were blocked there, so they all got burned," a five-year-old boy told his mother.
Among the crowd some blamed greed, saying the leisure centre's managers had failed to invest in fire safety equipment.
Some said local officials had failed to carry out regular fire inspections.
An elderly man said Kemerovo's veteran governor Aman Tuleyev was not to blame. "He can't control all the thieving bureaucrats," he said.