Paris murder of woman, 85, investigated as 'anti-Semitic'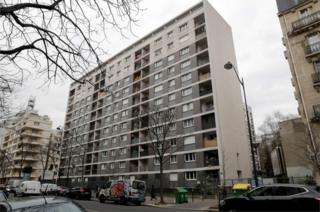 French prosecutors are treating the murder of an 85-year-old Jewish woman, whose body was found in her burned-out Paris flat, as an anti-Semitic attack.
Mireille Knoll was stabbed several times before Friday's blaze.
In 1942, she escaped the notorious Vel d'Hiv round up of some 13,000 Jews in Paris, who were then deported to Nazi death camps.
Two men, aged 22 and 29, have been arrested and placed under formal investigation over the murder.
A police source told French media that one of them had previously been convicted of molesting a 12-year-old girl who had been staying at Mireille Knoll's flat.
She had also complained to police that a neighbour had threatened to set fire to her home, according to reports.
"We are really in shock. I don't understand how someone could kill a woman who has no money and who lives in a social housing complex," her son, who was not named, told AFP news agency.
On Sunday, investigators said they were "not excluding any hypothesis" as to the motive for the attack.
But a day later the Paris prosecutor said it was believed to be anti-Semitic.
French lawmaker Meyer Habib wrote on Facebook that the pensioner had escaped Vel d'Hiv in 1942 thanks to her mother's Brazilian passport.
In a statement (in French), France's Jewish umbrella organisation Crif expressed "anger and concern" at the attack.
It urged "the fullest transparency" by the authorities "so that the motive of this barbaric crime is known as quickly as possible".
France's Jewish community has voiced increasing concern over a rise in violent anti-Semitic acts in the country.
Last month, a judge confirmed that the murder last year of Sarah Halimi, a 65-year-old Orthodox Jewish woman who was beaten and thrown out of her window, was driven by anti-Semitism.