Ireland to get first official nude beach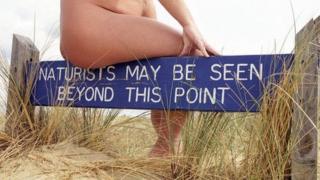 Usually a trip to an Irish beach requires putting on more clothes rather than taking them all off.
But for people who can 'bare' the cold, there's now somewhere in Ireland where they can go and be natural.
The first nude beach on the island of Ireland will officially open at Hawk Cliff in Dalkey, south Dublin in April.
And naked beach-going is more popular in Ireland than you might think, said Pat Gallagher from the Irish Naturist Association.
"This country has had people using beaches all around Ireland for as long as I can remember for nude bathing," he told Good Morning Ulster.
"A lot of people would prefer not to say to anyone, but they would go on the continent to nude beaches or go to nude resorts on their holidays."
He said the organisation had been campaigning for a number of years for an official nude beach.
After a "sticking point with the legal system" was clarified in 2017 via a sexual offences bill, Dún Laoghaire-Rathdown County Council agreed to put up signs at Hawk Cliff notifying people of nude bathers.
Mr Gallagher added that there had been some concerns expressed over children being inadvertently exposed to nude bathers but he said that the beach at Hawk Cliff is "not really a family beach area".
"Certainly children shouldn't be there, it's quite dangerous. Any children that would be down there should be supervised. It's not your typical beach area."
He also said that in his years going naked at the beach in Ireland, he had never had any issues with local people and that Irish nudists tended to go to beaches that are "out of the way".
"We don't just go down onto a popular beach - we leave our cars behind, climb over sand dunes and go to little coves that basically no one else wants to go to."
Now, however, Ireland will have at least one spot where nude bathing is allowed and acknowledged - something that's welcomed by Mr Gallagher, who described himself as liking "the idea of the sun, the sand, the sea, the whole lot" without the need for a bathing suit.
But, isn't Ireland a little bit cold for stripping off?
"Not in the summer, no," said Mr Gallagher. "I know we don't get the best of weather, we don't get Mediterranean weather, but we get pretty good weather at the best of times.
"When you hear the farmers complaining that they need rain, then it's good weather."