Russia Kemerovo fire: First funerals take place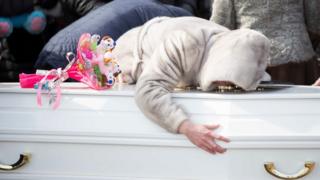 The first funerals are taking place for those who died in the shopping centre fire in the Siberian city of Kemerovo.
At least 64 people died in the blaze on Sunday, 41 of them children. Relatives say dozens of people are still missing.
Wednesday has been declared a day of national mourning, and vigils have been held across Russia.
Thousands of people protested in Kemerovo on Tuesday amid anger over alleged safety failings at the Winter Cherry mall, where the fire broke out.
Investigators say the fire alarm was broken and exits blocked, and President Vladimir Putin - who visited Kemerovo on Tuesday - has blamed "criminal negligence" for the blaze.
Security guards, supposed to help with any emergency evacuation, were among the first to flee when the fire broke out.
Five people have been arrested in connection with the fire.
---
'Children, forgive us'
By Sarah Rainsford, BBC News, Kemerovo
There were funerals all over Kemerovo on Wednesday. At one snow-covered cemetery, a mother hugged the coffins of her two young children and sobbed uncontrollably, before they were buried along with their grandmother.
This city feels stunned, still absorbing the enormity of the tragedy and the horrific stories of those trapped, helpless, in an inferno.
A shrine beside the burned wreck of the shopping centre has doubled in size in the past day, visited by a never-ending stream of people. There is a mound of flowers, soft toys and sweets for the dead.
One of the notes left at the shrine just reads: "Children, forgive us."
But there has been no repeat of Tuesday's mass protest. The main square outside the governor's office is closed off with metal barriers and surrounded by police.
---
Wednesday's funerals - for some of the 27 identified victims - included those of a grandmother, Nadezhda Agarkova, and her two grandchildren Konstantin and Maria.
Dozens of students also attended the funeral of their English teacher, Tatiana Darsaliya, in a Kemerovo cathedral, said reports.
'Great grief upon all of us'
The teacher has been called a hero after she led her own daughter to safety from the burning cinema but died when she went back in to try to save more children.
Mourners lit candles and laid flowers and toys.
A priest told those gathered: "This tragedy is made worse by the fact that children became victims of the blaze. Great grief is upon all of us and there are no words that would express our common pain."
Many children became victims because they were using entertainment facilities at the top of the mall, including a cinema whose doors are said to have been locked.
Investigators are looking at whether the fire could have been started by an electrical short-circuit or arson in the children's play area.
To mark the national day of mourning, flags are flying at half mast and television shows were broadcast showing a black ribbon or statement of mourning.
In the upper house of parliament, senators wore black, and rose to honour the victims at the beginning of Wednesday's session.
Entertainment events have been cancelled across the region.
While President Putin has been scathing in his criticism of errors that apparently led to the blaze, local officials have been less forthcoming.
Regional Governor Aman Tuleyev - whose niece was reportedly killed in the fire - has stayed away from the protests, where some are calling for his resignation.
He and deputy officials have also suggested the protests are being hijacked by opposition supporters hungry for publicity.