Trèbes attack: French vegan activist convicted over dead butcher comment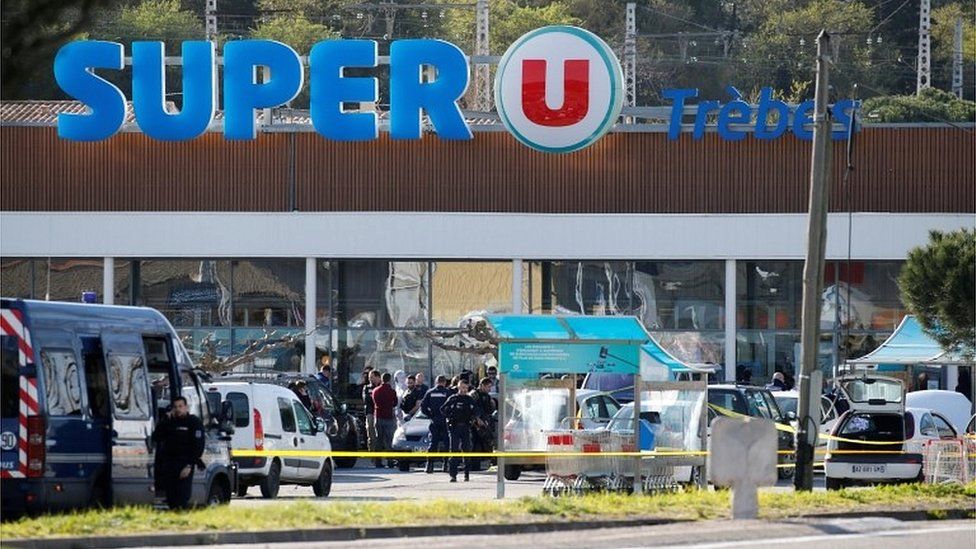 A vegan activist in France who posted a Facebook message saying the killing of a butcher by an Islamist militant was "justice" has received a suspended prison sentence, court sources say.
She reportedly wrote that she had "zero compassion" for the victim of the supermarket attack in Trèbes last week.
Her seven-month sentence was issued as punishment for condoning terrorism.
The victim, butcher Christian Medvès, was one of four people killed by gunman Radouane Lakdim on 23 March.
The animal rights activist was prosecuted under France's tough anti-terror laws by a judge at a court in Saint-Gaudens, not far from Toulouse, in the south-west of the country.
Condoning terrorism carries a maximum seven-year jail sentence and a fine of up to €100,000 (£88,000).
Police said they were alerted to her Facebook post on Monday evening.
"So does it shock you that a murderer gets killed by a terrorist? Not me, I have zero compassion for him, there is justice in it," she is said to have posted, according to a judicial source quoted by the French news agency AFP.
France's butchers federation said it had filed a legal complaint over the post, which has since been removed.
Lt-Col Beltrame, 44, was killed after offering himself in exchange for a hostage being held by Lakdim after he attacked the Super U grocery in Trèbes on Friday.
Sixteen people were injured, two seriously, in what was the worst jihadist attack under Mr Macron's presidency. The gunman was shot dead by police.