Moscow official says West is trying to deny Russia World Cup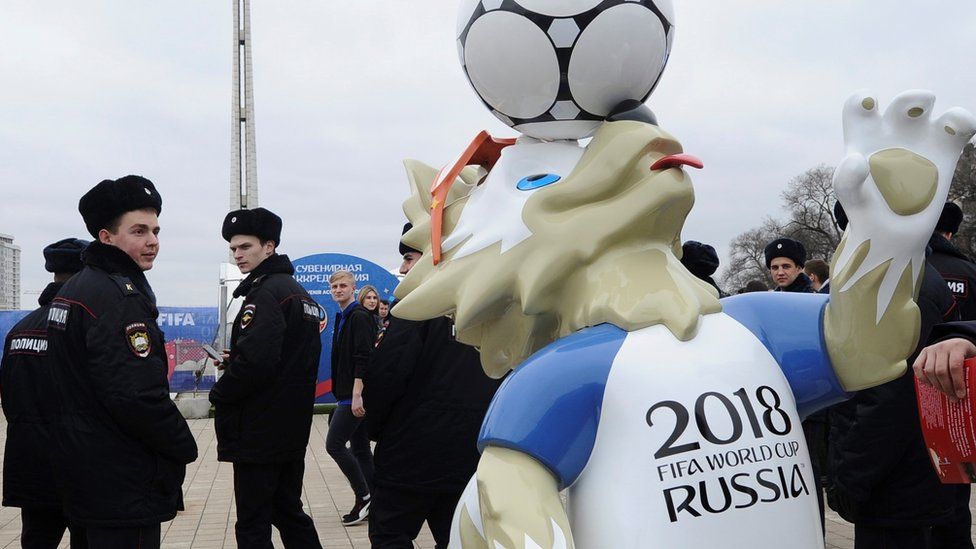 Russian foreign ministry spokeswoman Maria Zakharova has accused the UK and US of seeking to stop her country hosting this summer's World Cup.
Speaking in a lengthy interview with a Russian TV channel, she said their "main aim" was to "take the World Cup out of Russia".
The UK has been seeking to punish Russia after accusing it of mounting a nerve agent attack in Britain.
The Royal Family will shun the World Cup as part of the British response.
However, there is currently no suggestion the England team will boycott the prestigious championship, which opens in June.
Scores of diplomats have been expelled on both sides in the dispute over the poisoning of former Russian spy Sergei Skripal and his daughter Yulia in Salisbury on 4 March.
In the latest move, about 170 Russian diplomats and their family members left Washington on Friday evening.
At the same time, the US flag at the American consulate in St Petersburg was taken down following the Russian government's instruction to close it down.
Speaking to Russia's Channel 5 TV, Ms Zakharova said: "It's my impression that all they care about is taking the World Cup out of Russia.
"They will use any means. Their minds are only on that football and God forbid it should touch a Russian football field."
Russia denies any involvement in the poisoning of the Skripals.
Mr Skripal remains critically ill but stable, while his daughter is now said to be conscious and talking.
The Foreign and Commonwealth Office has said it will consider a request for Russian consular access to Yulia, a Russian citizen.
What is the background to the dispute?
The poisoning row has rumbled on for nearly a month.
The UK is adamant Russia is behind the poisoning of the Skripals.
UN secretary general Antonio Guterres on Thursday issued a warning over "a situation that is similar, to a large extent, to what we lived during the Cold War".
Russia says it is seeking a meeting with leaders of the Organisation for the Prohibition of Chemical Weapons (OPCW) to "establish the truth" about the poisoning.